After spending most of 2021 adapting to life as a U23, given the lack of racing in his final season as a junior, you could be forgiven for having lower expectations for Development Team DSM's Scotsman Oscar Onley.
But as the season approaches the midpoint in its eighth month, the climber has been one of the year's breakthrough riders, and looks set to go onto bigger and better things in 2022, as he gets more and more leadership opportunities with his growth.
I called Oscar ahead of the Szaka Tour, a race where he would go on to show even more of his quality, this time against WorldTour riders. Read on to get to know him better.
"I struggled last year to adapt to the U23s, given in 2020 I raced so little in my final junior season. But I did a lot of high level races, and raced a lot more towards the end of the season too. I've been surprised with this year. At the Youngster Coast Challenge, I was making all the splits in the crosswinds. That was something I couldn't have done in 2021 and showed me I had gotten stronger over the winter and had gotten more used to this level of racing, as well as the technical side of things with positioning. So this year has been a lot better. I was then 5th overall at Circuit des Ardennes, which showed I could get a result. I feel overall, even when I've not gotten a result this year, I've not just ridden around in the bunch, I've worked hard for the team or been active myself in every race."
Given his climbing ability, there is no shock that Oscar and his team are moving to better him in the key areas of GC riding, as he seeks to improve on long climbs and his TT.
"I think the GC is path is the one the team and I are taking with my development. My TT isn't the worst, I can TT well if the course suits me. I have to say that in the future, I'd like to focus on my TT and on longer climbs, rather than the short, punchy efforts in the Ardennes."
Similar to what teammate Hannes Wilksch told me, the duo finishing 7th and 9th overall at the U23 Giro certainly wasn't the aim, as the team was hunting stages before the race. But after excelling on stage three, Oscar was able to hold his own on the Fauniera on the penultimate day and seal a brilliant 9th on GC.
"I wasn't expecting a top ten overall, as the team didn't really enter the race with GC ambitions. But we knew with myself, Hannes Wilksch and Max Poole we had guys who could do something on the climbs. On stage three, we all rode within ourselves, and I paced myself on the Mortirolo, as we still had 50km to go from the top. I was with other guys in the valley, I kept my pace and we kept catching and dropping guys. Eventually, we caught Hannes' group on the final drag to the line. I could see they were all on their limit, and Hannes and I could actually drop them quite easily and go to the line together. On the Fauniera, at that altitude, it was just every man for themselves, I rode my own pace all the way, there wasn't much else to say! There was no tactics really, the legs decided that!"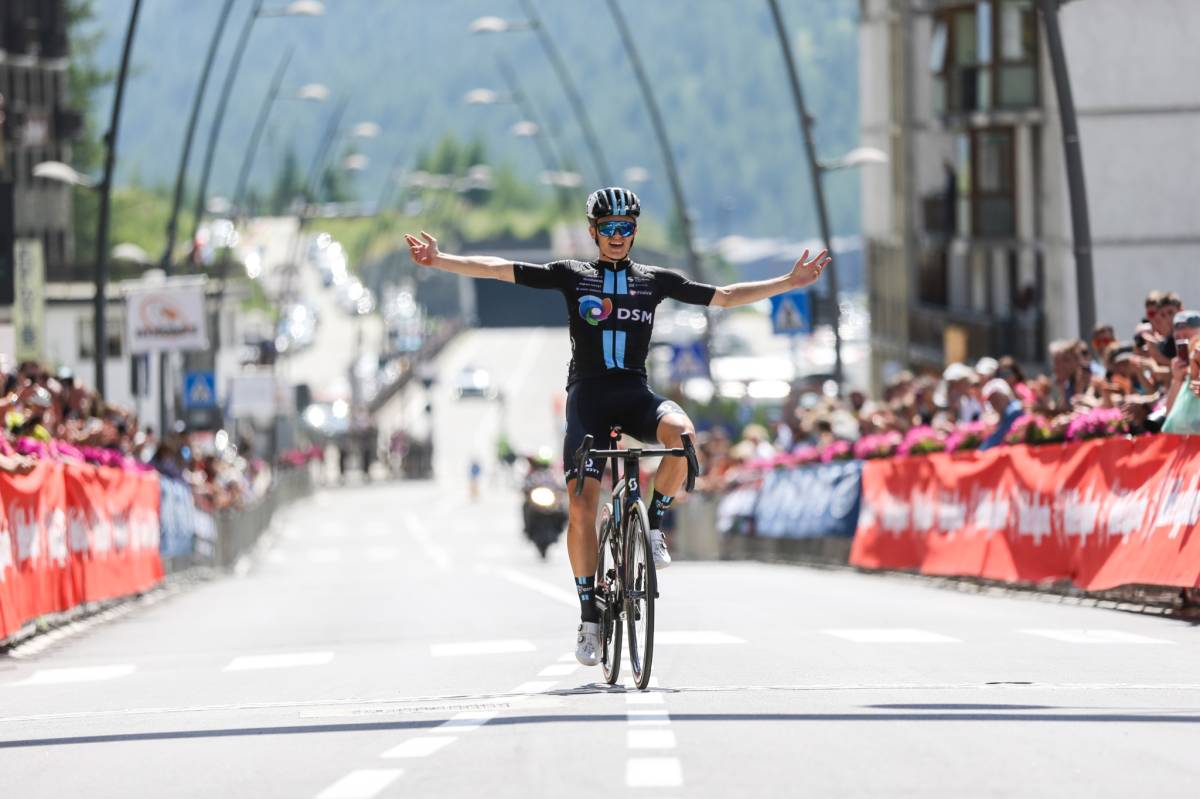 After the Giro, the 19-year-old would head to the Giro Valle d'Aosta, one of the toughest races on the UCI calendar, no matter the category. He raced well on day one, with his GC ambitions looking intact, but cramp on day two put an end to that. He was amazing on stage four, being the last man to hold FDJ duo Martinez and Thompson on the tough final climb, and ended the day in fourth. But on the last stage to Cervinia, he would infiltrate the break, and solo to the line for his first UCI win, taking the points jersey too to boot.
"I was supposed to go for GC at Valle d'Aosta. I felt really comfortable on the first day and I was one of the best guys behind Lenny Martinez. On stage two, I cramped up in the heat on the penultimate climb, so the GC was over and it was about stage wins after that. I knew to win, I had to be in the breakaway and I'd ridden well on stage four, so once I made the break on the last day, I was confident in myself. It was actually the first time I've known I can win, other time you want to win but don't know if you can. But again, it was at altitude, so I knew if I had the legs I couldn't waste them and risk blowing up. I made sure I was within myself and delivered the win. Overall, I felt a lot stronger in that race. At the Giro, I'd usually be at the back of the group, but even with the level of the FDJ guys here, I was always able to follow pretty deep on some of the climbs."
Oscar isn't too sure of his upcoming schedule, since he was omitted from the Great Britain team for the Tour de l'Avenir. But he hopes for more pro races with DSM, including a spot at his home race, the Tour of Britain, with stage two taking place in Oscar's home region, the Scottish Borders.
"Szaka Tour is next, which will be a nice test, since it's a 2.1 race with WorldTour teams and lots of climbing. After that, some more pro races and then the Tour of Britain would be nice."
And indeed, with a second place on the first summit finish, Oscar ended the Szaka Tour in 7th overall, a terrific result against WorldTour and Pro Conti opposition. He generously gave me another quote after the race.
"I'm pretty happy with my performance last week, I feel like I've made another step during this race competing for the win in a pro race but I also made some small mistakes that cost me a bit on GC. It's given me extra motivation for the rest of this season though."
Rightly or wrongly, I've assumed Oscar will stay on for his third U23 season, although nothing has been confirmed by Team DSM as of yet. I asked him how he feels about extra eyes on him on races next season, after his results so far. Oscar, surprised me by saying his team jersey means he's always had eyes on him, so isn't expecting much of a difference.
"I'm looking forward to it. I have to say that when you wear the jersey of a development team like DSM's, you always have a target on your back, you always will be marked. So, things won't actually be that different for me next year."
Finally, I asked Oscar what his dream pro win would be. He admitted he'd love to win any race, but when pushed, picked his favourite race to watch, and he also has experience with the course.
"I don't know really! My favourite race to watch is Liege-Bastogne-Liege, and I often train on the course. That would be a nice race to win, although I'd take any!"
For me, even with a little Scottish bias I must admit, I see Oscar as being one of the best GC riders in the field at the moment, and I think he will take another big step up in 2023 in terms of competing for the U23 stage races, should he return to this level. I'm really excited to follow his career, as he has the makings of a top rider and already has shown his maturity, given how he paces climbs amazingly at such a young age. His career will be fun to watch unfold.
U23 Cycling Zone would like to thank Oscar for taking the time to answer my call, and I wish him all the best for the rest of the season and beyond. I also wish to thank Lukas Kruse at Team DSM for coordinating the interview. You can find Oscar on Twitter and Instagram.