Back for another year, we have yet another really hard edition of the Tour de l'Avenir to enjoy. I'm told the opening week of the race will be on YouTube (assuming that's on an official l'Avenir channel, but not yet confirmed to me), and then Eurosport as is tradition, will broadcast the final few stages, sadly once more not asking me to commentate ☹.
We have a plethora of future stars here, and I won't even try and digest the potential stage winners, as there are a lot. To reflect the strength of the startlist, I'm experimenting with a star list for the GC guys, which will probably also appear in my Worlds RR preview too. I will go back to the usual format for other stage races when the field is a little easier to sort through, but please provide feedback to it!
The Parcours
Prologue: La Roche-sur-Yvon (3.5km)
Pan-flat, through the town with not many corners, a few roundabouts but the roadbook indicates it's a case of enter each at six o'clock and leave at twelve, so hopefully all is safe as possible. But it's a TTT, which doesn't count for GC, but it will award the first rider from the fastest team the Yellow jersey. Pointless exercise, I won't say anything more about this.
Stage 1: La Roche-sur-Yvon – La Roche-sur-Yvon (120.5km)
Given the still tightness of the GC gaps after the prologue, this one really should end in a sprint. Everyone is fresh, and we have some really good sprinters here. We have Casper Van Uden for the Dutch, but the Brits have Sam Watson, Australia has both Jensen Plowright and Blake Quick. Italy has the Giro sprint winner Alberto Bruttomesso, and Denmark bring Sebastian Kolze Changizi. Even Thibau Nys could mix it up in this one for Belgium, and Waerenskjold won both the prologue and first bunch sprint of last year's race. There's really not much else to say about this stage if I'm honest, it should be a fast one with guys trying to get the first KOM jersey of the race on the day's only climb, but after that, it's a waiting game for the sprint, unless the weather takes hold.
Stage 2: Benet – Civray (154km)
Somewhat more of a challenge than yesterday, with a 500m long climb at 21km to go, but again I find it hard to see this one going any way other than a sprint. The only difference to stage one is that the final kilometre goes slightly uphill, nowhere near enough for a puncheur, but perhaps enough to throw off a slightly heavier sprinter? Who knows. Ultimately, the first five stages of this race are about who wins the stages, and who crashes and loses the GC completely. It's going to be a very nervous bunch.
Stage 3: Civray – La Trimouille (153.5km)
Again, with only 2km worth of categorised climbing, this looks like another sprinters stage. Like the previous day, it differs slightly in that there is a sharper drag in the final kilometre, which might lend itself to a punchier sprinter like Nys or Watson, or even to a late attack. The French and Dutch in particular have teams full of riders who love to go all in on an opportunistic move. This is the first stage I think so far that could maybe see the sprinters denied.
Stage 4: Sainte Severe-sur-Indre – Chaillac (143km)
Yet another slightly different stage to what we have seen so far. I'll favour a break going today for two reasons: the TTT the next day will occupy the thoughts of the GC teams, and the final kilometre has a drag right to the line, as opposed to the stage three final km which had a drag before flattening off for the finish. I'm interested to see if any real strong guys can or have lost enough time before today, as this is a great chance for a break or a late attack to steal a priceless stage win.
Stage 5: Gueugnon – Saint-Vallier (27km TTT)
Given the lack of parity among some of the nations here, as well as in TT ability, I can see why some fans dislike the inclusion of the TTT in this race. But, as it is a mini Tour de France, it is a true test of what the riders might face at the pros (every five years or so, not the every year we have it in l'Avenir, but I digress). Last year's race against the clock was actually not that conclusive, we knew some teams would be good and they were, others surprised, like Spain, and others did predictably poorly. At the end of the day, seven teams came within 50 seconds of the Dutch. I'm expecting the Dutch to be good again, as will Denmark, Norway, Germany, Switzerland and Britain. Italy and Spain should lose a bit of time, but nothing more than 45-55 seconds max I would think. Colombia and Ecuador will be the two biggest losers I would imagine. This is the first big GC test, I hope we still have a lot of contenders after the flat test of team cohesion.
Stage 6: Saint Amour – Oyonnax (126km)
I love this stage profile. Pretty similar to the stage in Oyonnax won by Tony Gallopin in the 2014 Tour, but there is 200m less climbing here, although I think the run-in to the line is tougher. There are three early cat three climbs in the first 60km, 2.7km at 7.1%, 3.9km at 6.2% and 4.2km at 5.5%.
From there, the riders face rolling roads all the way until the final begins. At 17km to go, the riders tackle another cat three, 2.8km at 5.7%, before the road then goes downhill very shortly and then drags up to the foot of the last climb. 3.3km at just under 7%, the Cote de Ceyssiat tops out at just 6.5km left on the stage, and will be a puncheur's dream chance to get away. The last 2km are flat. Look for riders like Costiou, Le Berre, Kluckers, Wilksch, Engelhardt, maybe even the GC men to try a move here. I of course listed a few names, but this is a stage 50 different guys could win, and it will be a breathless final.
Stage 7: Thonon les Bains – Saint Francois Longchamp (175km)
This is the classic VAM test we get in the big U23 stage races. A cat three and cat two early in the race, but really not much to be noted about those, they struggle to average 4%. From the cat two, there is a long decent before about 35km of flat roads to the foot of the HC climb to the line. The climb to Longhcamp is really difficult, with kilometre two to eleven not really going below 8% average, apart from one kilometre at under 7%. Early on, there is a 4km stretch at just under 10%, which will really whittle the field down. The final 3.6km to the line does get easier all the way, with the last few hundred metres even downhill after a false flat previous kilometre. No matter, after today, the GC will, probably for the first time, look a lot clearer.
Stage 8: Ugine – La Toussuire (100.5km)
We've had the VAM test, this stage now gives us the multi pass day. And it's a brutal one. A few of the riders who did the Savoie Mont Blanc one-day race recently, won by Matt Dinham, will know the final climb, but to get there, they must first traverse the mighty Madeleine. 25.6km at 6.2%, topping out at just under 2000m, this will decimate the field once more. The final 4.5km are hard too, averaging just under 8%. There are 49km from the top, and the riders face a tricky descent down to La Chambre.
From there, there is about 23km to recover, before the 16.6km cat one climb begins to La Toussuire. Averaging just under 7%, the first 9km are very consistent, holding about 7-8%, before the final 7.6km go from1.3% to 7.1% to 2.6% to 4.8%, before going back to 7-8% for the next three kms. The last 600m go back to 3%. This is the last brutal stage on paper, and we should be down to just a few guys left who can win this race on the final day, if we even get that lucky.
Stage 9: Bessans – Vilaroger (133km)
True to formula, after VAM test and multi pass day, we get the false sense of security stage to encourage aggressive racing. We get an early cat two (7.4km at 5.5%) and a cat three (3.7km at 7.3%) before going up the Iseran, officially 13km at 7.3%, topping out at 2750m above sea level. This is where the organisers want guys who need a good chunk of time to win the race to attack and split the race.
Following the long downhill, there is less than 10km to go, and the final 4.8km are on the cat three climb to the finish at Villaroger. Leaving an "easy" climb last means riders need to go early, so the spectacle increases, like I was saying. The last 4.8km of this year's race averages 6%, although the first 2km averages 8%, and after that you will struggle to drop anyone still on your wheel and make one final dig for glory.
The Favourites
5*: Cian Uijtdebroeks (Belgium)
4*: Lennert Van Eetvelt (Belgium), Johannes Staune-Mittet (Norway), Leo Hayter (GB), Lenny Martinez (France)
3*: Tom Gloag (GB), Mathias Vacek (Czech Republic), Matt Dinham & Rudy Porter (Australia), Jacob Hindsgaul (Denmark)
2*: Romain Gregoire (France), Igor Arrieta (Spain), Davide Piganzoli (Italy),
1*: Arthur Kluckers, Santiago Umba, Archie Ryan, Hagos Welay, Darren Rafferty, Martin Messner, Hannes Wilksch, Georg Steinhauser, Felix Engelhardt, Martin Lopez, Matt Riccitello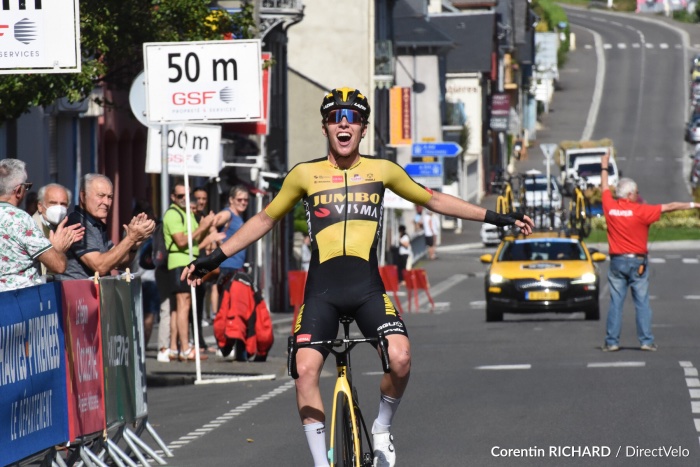 I've tentatively marked Cian Uijtdebroeks as my biggest favourite here, given he's aimed at this all year, and has looked right at home in the WorldTour after skipping the U23s. He has a good team for the TTT, solid riders in Segaert and Gelders for the flat, Nys can help there too, and Nys can also do the smaller climbs. Lecerf is an amazing climber, 4th at the U23 Giro in his own right, will be big in the mountains. And if Cian falters, his co-leader (yes, I believe they are entering this as equals) is Lennert Van Eetvelt. Peace Race winner. Giro runner up and massive 2000m summit finish winner. Alsace GC podium. Belgium have the best tandem in the race, and maybe the best team in general. Both leaders are in good shape, and will be very hard to drop.
But there are three men who I think can beat them to the title. Two are pretty similar: Hayter and JSM. Both are diesels, excellent at pacing themselves from their good TTs, and both are really becoming great climbers. Norway have Tjotta and Svestad-Bardseng to take Johannes into the mountains, where he will try to keep pace and win the race. Leo has a lot of track guys with him, so the TTT should be no problem for the Brits, and Sam Watson has already shown his amazing selflessness as a domestique. Tom Gloag is the ace in the hole. He looked good in Alsace and Valle d'Aosta at times, but then has a bad day the following day. There is hope he can actually be up there like a co-leader within the British camp, but I can't say for sure where he is at. If he is good, he can, at minimum, be a game changing helper for Hayter. At his best, he can win this race, he's that good a climber. For now, I have him as a key helped for Hayter, and he leads my tier three guys.
Lenny Martinez is the best climber on the start line. Period. He showed it at the Giro, even if he then blew himself up and then couldn't catch Van Eetvelt on the Fauniera, and he then backed it up with the GC at Valle d'Aosta. He will like the summit finishes a lot, especially the Longchamp climb and Toussuire, and there is minimum valley road between the finals on the last two stages for him to blow again or be chased back. Here's the caveat: France should be good in the TTT, but the climbing support will not be as good as at FDJ Conti. Gregoire can be a massive help, like he showed early in the Giro, or he may struggle like he did on the Fauniera. Baudin also has the makings of a good helper too. Costiou and Le Berre are more rouleur types. Delbove crept into the top ten on GC last year, but he's maybe not as strong as some of the other super doms here. But all these diesel engine climbers will struggle when Lenny drops the pace. He is one of the entertainers here, a man who will make this race exciting.
I've already touched on Gloag as a tier three man. The two Aussies are in good shape, as Porter got a massive 2nd at Course de la Paix, and Dinham won in Savoie, his first UCI win. Both are looking good, although for now I think a top five would be a great result for both. Alternatively, they could win a stage each. I'm expecting a lot from the duo.
Hindsgaul has had a weird season. He won the sprint for the win atop the summit finish at Antalya Tour, and thus on the GC. He was then a bit quiet until coming back to U23 level to take 4th in Course de la Paix. He's been quiet again since, but was 8th overall here last season and should be looking to get into the top five. The Danes will do a good TTT, and I'm expecting him to have a lead of some sort going into the mountains. He is a rider to watch.
Trek's new recruit, Mathias Vacek, is very similar to Hindsgaul. Adept at climbing and TTing, I think the Czechs have a good team to keep him safe until after the TTT, but from then, he and big brother Karel will be on their own. I'm not sure he has the experience to do a GC this long, but his 3rd place at Course de la Paix suggest he has the level in him somewhere. If he gets into the top seven or so, I would call that a big success given what he's been through this season.
The tier two guys are Gregoire, because I have no idea where he lies as a climber, He blew me away early in the Giro, and then blew himself up later on. He climbed well in Alpes-Isere, but these climbs here are next level. Personally, I want to see him stage hunt and help Lenny, but I had to include him somewhere on this list, he's that talented. I'm also going to use this juncture to mention Norway's Per Strand Hagenes. An excellent puncheur and classics man, he won't compete for GC, but I can't wait to see him stage hunt and maybe even renew his battle from the juniors with Romain.
I've also got Kern Pharma pro Igor Arrieta here in tier two. He did a great job helping Carlos Rodriguez last season to 2nd overall, but he is still only 19. He has shown GC glimpses at Vuelta a Asturias and Gran Camino, but is yet to have morphed into a fully-fledged stage racer. If he top tens overall, that would be a very good result. I'm also watching Fernando Tercero, whose form has faltered a bit since top tenning the Giro, and young Ivan Romeo, who turned 19 yesterday. A very promising young rider.
My final tier two rider is Davide Piganzoli. Twice in the top ten at the U23 Giro, he can TT well and is a good climber. In this field, another top ten would be great progress for Italy's U23 TT champion. Maybe in a year, the likes of he and Arrieta are further up this list, but as second-years, in this field, top tens would be terrific, I think.
Tier one is mostly untested climbers, like Ireland's Darren Rafferty and Archie Ryan, both of whom could do really well here. The German team has no clear leaders, but Wilksch, European champ Engelhardt and WT rider Steinhauser could potentially top ten this race, I just couldn't pick one. Messner was a really forgettable 6th overall last year, but I'm not expecting as good a result from the Austrian diesel. I love Hagos Welay, but riding on the UCI WCC team, he will suffer a lot in the TTT. Same for the Colombians, and I'm not even sure if Santi Umba is riding. He's a gifted climber, but his second season at Drone Hopper hasn't lived up to his first season's billing. I'm also expecting TTT losses from Lopez from Ecuador, but he and Nixon Rosero could challenge for stages in the mountains, after Lopez top tenned all three mountain stages last season. Matt Riccitello is looking for his first big break in the U23 stage races, but it could come here. Arthur Kluckers has been great this season, but I see him more as a stage hunter, and I could see him winning a stage to go with his other two UCI wins this year, rather than going for the GC.