Ahead of his debut at the European Championships next week, Italy's newly crowned U23 ITT champion Jonathan Milan is in red-hot form.
The second year U23, who plies his trade for CT Friuli, has been fantastic since the restart of racing. There is much more to Jonathan than a good TT rider though, as he also sprints very well.
He gave me an exclusive interview earlier this week, where we discussed his life as a track rider and road racer, as well as many other topics. Now you too can get to know him better. Firstly, we began with discussing how he emerged from the lockdown in such strong form.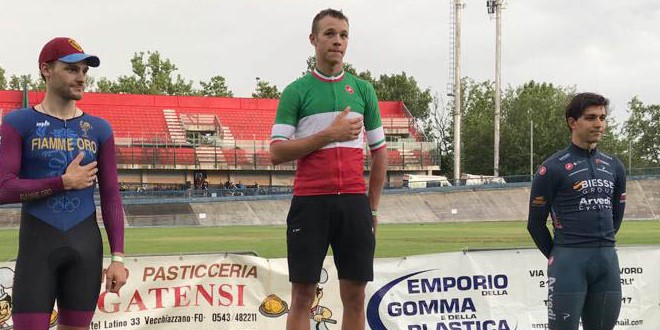 "It was fun from the beginning. I have always followed the programs of my trainer Andrea Fusaz, doing both many free-body exercises and many hours of rollers. I was also very careful to continue a healthy and correct diet."
Jonathan went on to discuss more about his strengths and weaknesses, revealing he can also climb quite well. The picture of a formidable rider certainly begins to form.
"I am an athlete who is strong both in group sprints and in the time trial, and I am also very capable on medium-length climbs. My weakness is the long climbs."
Speaking about his biggest success at the Nationals three weeks ago, Milan says winning a national title was a dream come true. Now, his aim is to keep the form for as long as he can.
"I had been dreaming of wearing this shirt for a long time, and with ITT my dream came true! I arrived at it knowing that I have a good condition, and I will try to keep it as long as possible, even in anticipation of the next races."
It has become a big trend in Italy lately to see riders mix the road and track consistently. Milan has raced a lot in the team pursuit for his nation, at various points in the season, and he explained to me how he balances the dual disciplines so well.
"The secret of combining the cycling season both on the road and on the track is to plan well appointments that will come during the season, those for which you want to do well at. On the track, you manage to perfect the work that you cannot do on the road."
Now, with his many big goals for the season being cancelled, the man from Buja, the same town as Alessandro De Marchi, says he will now try his best in any race that suits him well.
"Unfortunately this year, many of the objectives I set have been cancelled, so now I will try to give my best in the competitions adapted to my characteristics."
For Jonathan, after he performed well in the junior race in 2018, he has found a love for Paris-Roubaix. He believes the race can suit him, and that is his dream pro win.
"For a race type, I like the Northern Classics, and my favourite is Roubaix. This is because I have already raced it in the Junior category and from that experience, I liked the cobblestones from the start, and I found myself having fun and racing well on them!"
Jonathan Milan is a fantastic talent to watch in the coming seasons, and his great versatility means he should win a lot more races very soon. CT Friuli have a great track record of developing riders from the local region, with Mattia Bais, Matteo Fabbro and Giovanni Aleotti all starring on the team. Jonathan is in the best possible place to develop into a star rider for Italy.
U23 Cycling Zone wishes to thank Jonathan for taking the time to answer my questions, and I wish him all the best for the future. I also wish to thank CT Friuli for helping organise the interview. You can follow Jonathan on Instagram here.