Coming into his final season at this level, Germany's Johannes Adamietz has made improvements year after year. After joining Team SKS Sauerland NRW for the season, Johannes has been unable to compete with the team so far due to the pandemic.
However, the man who turns 22 next week has been training vigilantly, getting ready to race if the all-clear is given. His biggest target races may still go ahead, but you need to read on to find out more about that.
Now though, you can start getting to know Johannes better by reading about his opinions on his 2019 season, which he gave to me in an exclusive interview.
"I had a difficult winter with knee problems because of a crash in training. But after that, my form was improving and I had my first good results in April with the Tour du Jura (6th overall, ed.), where I raced with the national team. If you look at the top ten from that race, most of the guys are now WorldTour, so that gave me confidence. I got better step by step up to the nationals and was second in the U23 road race, which was a real highlight. After, I hoped to make the German team for l'Avenir, but I wasn't selected, which was disappointing and a missed opportunity for me to show my strength in the mountains. That wasn't the best part of my season but I did well in the latter part of the summer. In general, it was a good season."
Speaking on his second place in the German U23 RR, Adamietz says that the result was indeed more of a highlight, rather than disappointment he had not won, and he went on to explain why.
"Immediately after there was not disappointment. Leon (Heinschke, ed.) went late and I didn't respond. My plan was to wait on a sprint since there was ten to fifteen guys left and I had no teammates in the group. The plan worked, it's just unfortunate I was sprinting for second and not first. Looking back, maybe if I'd won I could have been selected for l'Avenir though."
Moving onto the type of rider Johannes feels he is, he's already mentioned his climbing ability, and he says the TT is his real weakness.
"My weakness is the TT. I have a problem with the position, I'm not too confident in it. I can push big numbers, but when I get in the position I have a problem seeing those numbers. Strengths-wise, I'm a climber. I like the longer climbs, but the short, punchy ones also suit me. I have a big engine, so long races suit me also, really anything that's 5+ hours."
For Johannes, he has now been on a new team for each of his four U23 seasons. Sometimes he has been forced to look for a move, other times his team has folded. Whilst he says this as taught him to be adaptable, there are of course negatives.
"It's not always good to have to change team and adapt to new people and a new environment. But most times it hasn't been my decision. Team Heizomat had difficulties in the end of 2017. After all they merged with Rad-Net Rose but this news came too late for me. At Tirol, I had problems with the DS, I had good shape but he basically never raced me later in the season which made it very difficult for me to qualify for the U23 Worlds in Innsbruck. Hermann Radteam was a good team, I had a nice time there with good teammates, I think you've spoken with Miguel Heidemann recently, he's a close friend. But they folded and I needed to move. I guess I've been a bit lucky to always find a team, but with the small circuit in Germany I guess the teams know me. Also, you need U23 riders to try and win the Radbundesliga, the German domestic scene. Doing well in that series can get you into the Deutschland Tour, so I guess that's a reason too why teams have signed me."
Talking about 2020 goals, Adamietz says he was looking to achieve a big result, as well as make the German squads for the Worlds and l'Avenir. His goals can actually all still happen if races go ahead as planned, so fingers crossed.
"Over the last two years, my condition has been good and my results have been solid, but I've missed the big result. My goal was to make the German team for l'Avenir and do well there, as well as for Worlds, because I think the course suits me. I'd also say the German U23 Road Race in Luxembourg this year too. With the virus, this is a difficult situation, but there is a maybe a chance these races could happen. I don't know how they will manage, but the German Federation has said the Nationals are still planned for the beginning of August, the Worlds too. I'm training as normal, getting ready for anything."
Johannes also faces the difficult situation of being in his final U23 season, yet has no races to try and show himself to WorldTour teams. He says he would love to be a pro, but he has also been studying at university and has a fallback plan if he cannot get a contract.
"These times are difficult, since you normally need good results to get a pro deal. Now, some pro teams may not even exist next season. There won't be much space for young riders. That's something I cannot control. I also cannot control if races happen or not. What I can control is my own performance. If I can race, I will do as well as I can. I don't feel any pressure though. I have said if I didn't get a deal, I'd do maybe two more years of focussing on cycling, then try and do something with what I have studied at university. That's my Plan B. For sure it's a dream to be a pro, but if I don't make it then it's not the end of my life."
Johannes' dream pro win comes at a race he has yet to do as an U23. But it is a race that is beautiful, historic, and brings the season to a nice close in Europe.
"I'd have to say Il Lombardia. It's a classic race at the end of the season. I love Italy's culture and races. If I could ever ride it, I think I'd be suited to it. It has nice scenery and legendary climbs. For sure that's a nice race."
Johannes Adamietz has shown that when he gets in races with top riders, he can hang with them. Hopefully he gets some races in his legs in 2020, so he can show himself in the mountains and make his professional dream a reality.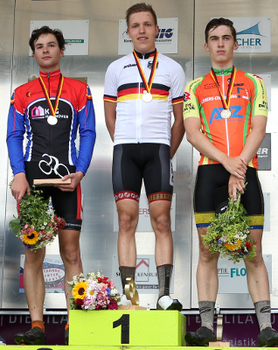 U23 Cycling Zone wishes to thank Johannes for taking my call and answering all my questions, we wish him all the best for the future. We also wish to thank his team press officer Jörg Scherf for coordinating the interview. You can follow Johannes on Twitter here and his team are found here.