Colombia's Adrian Bustamante didn't find the luck he needed in Europe this year, with a bad crash in the U23 Giro relegating him to an early support role for eventual winner Andres Camilo Ardila, and l'Avenir didn't go his way either.
But the third year U23, currently on Coldeportes Zenu, still had a very good year, including 2nd overall in the U23 Tour of Colombia against an elite field. Off to UAE Team Colombia for 2020, he is hoping to show in his last year at this level that he is one of the best GC riders.
"This season has been full of opportunities, learning and growing. I am very happy with my results."
Rather rare for a Colombian, Adrian can TT quite well, which together with his usual strong climbing legs, makes him a very strong GC prospect. But he says he has much more work to do to reach the level he desires.
"I consider myself an all-rounder. Nevertheless, I have to work much more on both my TT and climbing. My current isn´t enough."
Despite his crash on the Strade Bianche stage of the U23 Giro d'Italia and the effects it had on his GC ambitions, Adrian says he really enjoyed the race and being part of a beautiful win for Colombia.
"It was a very beautiful race. Some incidents left me far from the GC. I gave everything to help Camilo Ardila get the title. This has been a very rich experience for me in order to understand teamwork and strategies. My fall was very painful, mentally speaking. I had high expectations and that accidents changed my season a lot."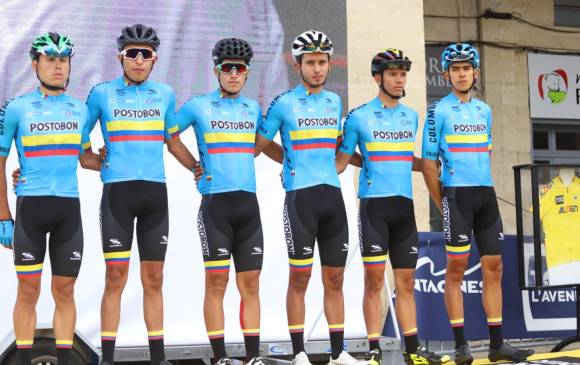 His 2nd place in the U23 Tour of Colombia was a huge performance. The race was won by Jesus David Pena, another electric talent, and Ardila was third. Jefferon Cepeda was 6th and Juan Diego Alba was also in the top ten overall, with a couple of Adrian's teammates in 10th and 14th. Despite not winning, Adrian says this result does satisfy him.
"I have to grateful for the second place. Maybe the luck wasn´t with me in that race. There were very competitive racers this time, so I feel satisfied. It is great to have this podium in my records."
Speaking of his move to the new UAE Team Emirates U23 team from Colombia, he says the manager is a familiar face and he is getting a greater chance to race in Europe than before, which is key to deciding if he can become a WorldTour pro.
"Being in the UAE Colombia Team is a great opportunity. Working with the manager Jaime Vélez is special for me. He has always had me in his projects. There are projects to race in Europe in the second half of 2020. I am looking forward to being part of the Colombian Team next year."
But despite only racing for his current employer for one season, Bustamante says he has learned an awful lot from Coldeportes Zenu, and is eternally grateful for letting him race in Europe for the national team too.
"Being part of the Coldeportes Zenú Team has filled me with teamwork skills, self-awareness, discipline, and commitment.  The teammates, including managers, mechanics, physicians, etc, are outstanding people. I have learned a lot from them. This is the team where I have felt more comfortable ever. They gave me the opportunity to race in the Giro U23 and the Tour de l´Avenir."
Speaking about goals, Adrian's European goals are not too big right now, he just hopes to be on the national team again. But back home, he wants to make the fina step in his home U23 tour, as well as trying to win a national title.
"My goals for 2020 are once again the National Champs (he was 4th in the U23 ITT in 2019) and the U23 Tour of Colombia, and hopefully being part of the National Team again."
Like most Colombians, Adrian dreams of winning a Grand Tour. His preference is the Tour de France, but he would gladly win any of the world's biggest three stage races.
"I would love to win the Tour de France. For me, it is the most beautiful and satisfying race. Anyways, any Grand Tour win would be amazing."
Luck seems to always have escaped Adrian Bustamante in the biggest races. If he can finally get lucky, he can win a big race in his final season at this level. For now, off to pastures new in 2020, we have to follow his development closely, and time will quickly tell if he can join the likes of Alba and Ardila in the WorldTour.
U23 Cycling Zone wishes to thank Adrian for taking the time to answer our questions and wish him all the best for the 2020 season. We also wish to thank Coldeportes Zenu's Carlos Restrepo for organising and translating the interview. You can follow Adrian on Twitter here.