Ahead of the 2015 season, a Dutch-based development team called SEG Racing was formed, mixing a Dutch roster and some international riders. They were granted a UCI Continental licence and the team quickly got off and running, winning an impressive seven races in their debut season and saw three of their roster make it to the WorldTour.
Fast forward to 2018 and the team, now racing under the name of SEG Racing Academy, has just concluded their season, winning a record 14 UCI races (almost double their previous mark) and has sent four riders to the WorldTour. The team has unquestionably announced themselves as the best development team in Europe, and only US Pro Conti U23 team Hagens Berman Axeon can claim to be able to challenge them when we talk about all the development teams in the world.
Not all of the team's riders flourished, some top juniors couldn't make it as U23s, other riders failed to fulfil their potential, others found success elsewhere. But the team has sent nine riders to the WorldTour and two more to the Pro Conti level (three if you count Roompot signing Hartthijs De Vries before having to cancel the deal due to his heart problems).
What makes the Academy special is that they aren't just seeking race wins, but also good people who they can develop into professionals, long before they sign a WorldTour contract. SEG Racing Academy was created by SEG Cycling. The main idea that SEG Cycling's directors, Eelco and Martijn Berkhout, had in mind was to create a safe, clean and professional environment in which young riders could develop and then move up to the pro ranks. After years of working alongside the top teams of the peloton (the agency that we know now as SEG Cycling was created in 2007), they knew what was needed to enter a professional team, as well as the demands that these projects have when it comes to riders. All that knowledge was used during the team's creation, so when a rider finally moves up to the WorldTour there are not that many differences with the way that they had been working in the Academy in the previous years. So what does SEG Cycling gain from this? Simply put, all of the riders that sign for the team also sign with the agency, meaning the team has a steady string of WorldTour talents. This is why the system works. If the riders can go on and become elite pros, the agency makes money from this. So therefore, the agency are directly keen to see each rider develop and achieve their highest potential. It really is a genius system.
So how did the team go from being a good development squad after their first year, to the elite of the elite by year four's conclusion and a good portion of year five underway? In order to do this, we have to take a step back and look at the roster from the very beginning.
2015
In: Steven Lammertink, Koen Bouwman, Alex Peters, Robert-Jon McCarthy, Magnus Bak Klaris, Jonas Bokeloh, Fabio Jakobsen, Julius Van den Berg, Jenthe Biermans
The team's first roster was good, featuring a few local riders like Bouwman and Lammertink, both were being tipped as up and coming Dutchmen to watch, as well as securing Denmark's junior Paris-Roubaix winner Magnus Bak Klaris and junior World Champ Jonas Bokeloh from Germany.
Lammertink was the star of the 2015 show for the team, winning the European U23 ITT, as well as the ITT in both the Tryptique de Monts et Chateux and the now defunct Tour of Berlin, where he also was the GC winner. Bouwamn won a stage at Giro Valle d'Aosta and Peters won a stage at Tour de Bretagne. Jasper Bovenhuis won the team's other race, the Arno Wallard Memorial.
The team would also make an impact in the U23 Classics, with time triallist Lammertink surprising with 7th in Liege and Bouwman, a climber, taking 6th in a flatter race like Paris-Tours. Jenthe Biermans, who would hang around longer than some of his teammates before going to the WorldTour, was 2nd in Roubaix.
Like with every new project, there was of course growing pains. Top young talents like McCarthy and Bokeloh would be taken by other Continental teams before SEG Racing could really get the best out of them, and recruiting top talent to replace what they had lost was not as easy as it is now for the squad.
Perhaps the biggest talents on the 2015 team was a duo of first year Dutch U23s named Fabio Jakobsen and Julius van den Berg. You will hear more about them later though.
2016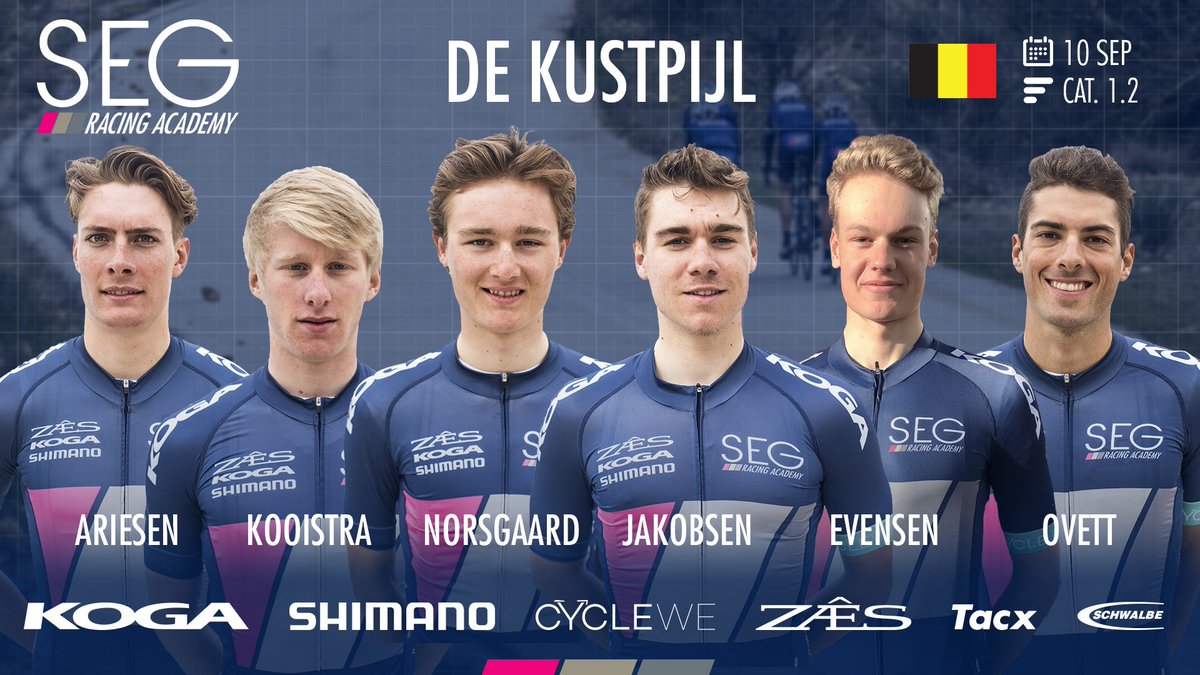 In: Tim Ariesen, Maarten Kooistra, Nick Schultz, Freddy Ovett, Mathias Norsgaard
Out: Koen Bouwman, Steven Lammertink (both LottoNL-Jumbo), Alex Peters (Sky), Robert-Jon McCarthy (JLT-Condor), Jonas Bokeloh (An Post)
2016 really does feel like a case of second season syndrome for the team, who by now had added the word Academy to their name, further emphasising their desire to produce top talent. The team for sure missed the riders it had lost in the previous year and a lot of their younger talents were still not developed yet. The team's new recruit Nick Schultz ensured they won another stage in Britanny, before he added the Aussie added the team's first ever Tour de l'Avenir stage towards the end of the year. Unfortunately, he wouldn't wait around and was off to Spain for 2017. Jakobsen was really starting to develop and took out the first of two national U23 road race titles, as well as the Slag om Nord race, an event which is now a 1.1, but was a 1.2 when Fabio won it. Biermans was again 2nd in Roubaix and was off to Katusha for 2017.
Aside from losing Biermans to the WorldTour and the brilliant Schultz to Caja Rural, the team endured some other frustrations. Sprinter Tim Ariesen went one-and-done as new Dutch Pro Conti team Roompot picked him up, promising first year Mathias Norsgaard was picked up by a Danish Conti devo team, robbing SEG Racing Academy of their chance to develop a rider who would go on to score 3rd at the Worlds U23 ITT in 2018. Finally, after two years of trying and ultimately failing to get the best from Bak Klaris, he moved on too.
2017
In: Edo Affini, Jan Maas, Cees Bol, Ide Schelling, Lucas Eriksson, Stevie Williams, Gabriel Cullaigh, Alex Peters, Hartthijs De Vries
Out: Magnus Bak Klaris (ColoQuick), Mathias Norsgaard (Giant-Castelli), Jenthe Biermans (Katusha), Tim Ariesen (Roompot), Nick Schultz (Caja Rural)
While 2017 was by no means a one-man show, there is no debating who the star of the show was: Jakobsen. The dutchman would win all seven UCI races for the team, as well as the U23 Road Race title for a second straight year, before QuickStep came calling. Two stages at the Olympia's Tour (Affini was 6th overall too), a l'Avenir stage, Frankfurt and two other wins cemented his status as one of the best sprint prospects the world had seen in a long time (not counting his future teammate Gaviria of course). The team also signed a few riders from the demise of the Rabobank Devo Team, which was a nice bonus to secure some more Dutch talents.
But not all would go well. After early season promise, illness and injury would wreck Williams season, while illness also prevented countryman Cullaigh's from really getting off the ground. The former would stick around, but the latter opted to race closer to home and joined Wiggins. The team also couldn't get the best from Swedish U23 RR champ Eriksson, who raced much better this season on a smaller team and was picked up earlier in October by Riwal, newly promoted to the Pro Conti ranks.
However, a year filled with sad undertones would both start and end in heartbreak. After a torrid time at the WorldTour with Sky, Peters returned to where it really all began in the hope of resurrecting his career. But he couldn't get back into the swing of things, and called time on his career in July. In the middle of the season, new recruits Bol and Peter Lenderink, both elated at having their careers continued after Rabobank Devo Team closed its doors, would both suffer bad injuries, limiting the duo to eight and six race days respectively. And De Vries' story would be the worst of all. Having managed to earn a pro deal with Roompot, heart problems were soon diagnosed and the deal was cancelled. He would race again eventually in 2018 for a small Dutch team, and would actually beat his old teammates to win the U23 Dutch ITT title, but no pro deal would reappear, and he has signed for another Dutch Conti team for 2019, having aged out of the U23 ranks.
2018
In: Daan Hoole, Thymen Arensman, Minne Verboom, Jordi Meeus
Out: Fabio Jakobsen (QuickStep), Lucas Eriksson, Hartthijs De Vries, Gabriel Cullaigh (Wiggins)
Simply put, this season was the team's crowning glory, everything that they had ever dreamed of since their inception. This was a season when the talent on the roster was finally matched by results on the road. And this was supposed to be a down year, what with Jakobsen no longer on the roster. While bad luck, illness and injuries did play a role in some very talented guys still being on the roster for 2018, it was down to the strong development skills the team had, as well as the hard work of the trainers, staff and riders themselves that all 14 wins were possible.
The team's loyalty was rewarded, as they stuck by injured Williams, Lenderink and Bol (who had actually aged out and was ineligible to race the U23 events), although Lenderink would never fully recover and would retire at the midway point in the season. But the other two would have career years, with both making it to the WorldTour level, with Bahrain-Merida and Sunweb respectively. Affini would also jump to Mitchelton-Scott and Julius van den Berg joined EF Education First, with four riders on the WorldTour being a great haul.
Edo Affini showed glimpses of his talent in 2017, but 2018 was his year, winning the team's second ever European U23 ITT title, as well as taking out the Giro U23 prologue, Mediterranean Games, and both Italian U23 titles. Stevie Williams had been sick for a lot of 2017, but he rebounded to win two stages and the GC at the Ronde de l'Isard (the team's first GC win at one of the traditionally mountainous U23 races), before following Affini's lead by winning a stage at the Giro. Cees Bol was unable to ride U23 races due to his age, but he smashed the smaller races in Belgium and Holland and won two races. Julius van den Berg, the team's truest testament to development having raced all four seasons as an U23 with the team, won four smaller races as well as taking over from best friend Jakobsen as national U23 RR champ, was second in Paris-Roubaix and was signed by EF Education First-Drapac immediately from July onwards. First year Thymen Arensman was third in Roubaix, which was not as much of a surprise as it sounds given we all know how well CX riders do in that race. But not even the man himself could believe he would take second overall in l'Avenir, especially having missed a chunk of the season with a broken collarbone. Marten Kooistra had shown he could be a top one-day racer with a podium in Frankfurt and 4th in the Slag om Nord, but he was on fire at the end of the year, winning a stage and taking 2nd overall in the Olympia's Tour before a stunning solo win at Paris-Tours capped off a perfect year for the team.
An incredible six of the team's thirteen-man roster won a UCI race. The team was already very good, arguably elite, before 2018, but this season proved they are the best in the business.
2019
In: Alberto Dainese, Sven Burger, Adam Hartley, Barnabas Peak, Kaden Groves, Tiago Antunes, Alex Evans
Out: Edo Affini (Mitchelton-Scott), Cees Bol (Sunweb), Julius van den Berg (EF Education First-Drapac), Stevie Williams (Bahrain-Merida), Jan Maas
If 2019 was the crowning glory for the Academy so far, 2020 was simply a continuation, as the standard of last year was carried on, even with personnel changes. With Kooistra staying on for his final year as an U23, as well as the popular Schelling and trio of now second years in Arensman, Hoole and Verboom, the key core remains. But they have now confirmed why they are a top development team: the best U23s want to race here. Final year climbers Tiago Antunes and Alex Evans joined the team from top Spanish and Australian teams, with both seeking more international calendars. Former mountain biker Sven Burger continues his rapid rise by joining the team, plus talented sprint duo Kaden Groves and Alberto Dainese (both coming off very successful 2018 seasons) leave established U23 teams Mitchelton-BikeExchange and Zalf respectively to join up. Adam Hartley, no doubt buoyed by the success fellow Brit Stevie Williams had on the team, leaves the fabled GB Senior Academy, whilst QuickStep stagiaire Barnabas Peak, elite road race champion from Hungary, will offer the team a rider who can win on a multitude of terrains.
The best thing about these signings is that not all are final year riders, meaning SEG Racing Academy hasn't just signed a bunch of guys who will be here for a year before leaving and the team is left with having to sign a whole new roster. Hartley, Peak, Groves and Dainese are all eligible to race as U23s in 2020. Whether they will all still be around to do so is another story, but the opportunity to build something special over a two-year period with their new recruits is at least there.
Peak has already been confirmed to be joining Affini on Mitchelton-Scott for 2020, and Groves is also linked heavily with the Australian outfit, a move that makes perfect sense given the Aussie connection, plus the team's lack of a real sprinter since Michael Matthews and Caleb Ewan departed, leaving elder statesmen like Daryl Impey and Luka Mezgec as the team's only options if Matteo Trentin heads to pastures new for 2020. Dainese has also been linked to QuickStep, where he would link up with Jakobsen, but should Sam Bennett arrive there, he may need to go elsewhere. But regardless, I'm confident he will be on the WorldTour for 2020. It has been those three riders leading the way this year, with Peak scoring a win in Normandie, with Dainese doing the same before taking three Bretagne stages. Groves has won five races, and Hoole retook the National U23 ITT title in the Netherlands. Whilst the GC results have not been there, Ide Schelling's 6th in Isard is the best so far in the hills (but at at the time of writing he has just won a controversial opening stage of the Giro Valle d'Aosta and may win overall), the team looks set to match last year's tally of 14 wins, excluding U23 national titles, and have 11 by mid-July already. Oh, and Thymen Arensman's season has been hampered by crashes, but he is still a l'Avenir favourite given the parcours. For 2019, unsurprisingly, the SEG Racing Academy wheels keep on turning, like everyone expected they would.
Overall, I have to be very careful when assessing the team's legacy. This is not a ten-year-old project where we can look back and assess the entirety of an Academy graduate's career. Yes, Peters didn't cut it in the WorldTour, and Lammertink would eventually move down to the Pro Conti level. But Bouwman has become a reliable rider for LottoNL-Jumbo (now Jumbo-Visma), and he won the Academy's first WorldTour race when he scored a breakaway win at the 2017 Dauphine. You have to hesitate to comment on the rest of the riders the team has sent pro, as most are still in, or are just leaving, their first pro contracts. Jakobsen has again been the biggest star, taking 7 wins (3 at WT level) in his first season as a pro, but Nick Schultz has developed nicely in Spain and will be a teammate of Affini's in 2019 at Mitchelton-Scott. Jakobsen has become dominant and he looks set to be a very important rider for QuickStep in the coming years, adding five wins in the first half of the year, with an elite National RR title to go with his two at U23 level, whilst Affini also has a neo-pro win.
One factor to watch moving forward is the creation of the Jumbo-Visma Academy, and they have already secured a lot of the best Dutch talent for 2020. Whilst SEG wish to be international, they will want to compete for the best the Netherlands has to offer too. This dynamic will be very interesting to follow in 2020 and beyond.
Perhaps a decade from now, I will revisit this article and be able to comment on what SEG Racing Academy's legacy in the pro peloton actually is. But for now, speaking on that aspect of the Academy would be ridiculously short-sighted. But halfway into year five, I can speak on the team's U23 legacy. They were always good, but now they are the best in the business at winning whilst developing U23s. every year they send elite riders to the WorldTour and almost all of those riders seem to adapt seamlessly to the rigours of life at the top. By year ten, this team could very feasibly be called the greatest development team to ever do it. And that title will well and truly be theirs if they keep growing and succeeding at the rate they have from 2015 through to 2019.