Despite being one of the youngest development teams around, UCI Continental team Aevolo had a dream 2018 season. The US squad found themselves at the forefront of the racing scene in America, and capped off their thrilling year by winning all three U23 US titles and their first ever pro race.
U23 Cycling Zone caught up with Colorado's Gage Hecht, the man responsible for three of those four big wins, to chat about his 2018 season, which as you will soon find out, was full of highs.
"I had a great time this season. I would definitely say that it was an enjoyable experience."
Gage is primarily known as a time triallist, and was the winner of the U23 title at the US National Champs this year. in the States, they run their nationals at different times for elites and U23s, meaning U23s can compete in both. Gage was also a very impressive fifth in the pro race, taking the scalps of WorldTour rider Neilson Powless and UnitedHealthcare pro Daniel Eaton, as well as some very good U23s in the shape of Brandon McNulty, Sean Bennett and Ian Garrison. 6th in the Kristin Armstrong ITT against top US pros further solidified how good he is against the clock.
"As of now, I would say that I have developed my time trial and breakaway abilities. I think that these are my strengths."
As well as the ITT title, Gage also added the criterium U23 title to his growing trophy cabinet at home. But his crowning glory was winning the opening stage of the Colorado Classic solo, a race where would also end in 14th place overall. But it was all about his stage win, and Gage went into more detail about that.
"That day was amazing. I had no expectation of any result on a day like this. We had just finished the Tour of Utah. I thought that with this big of a race in my legs, I would be pretty tired. After a few laps of the circuit, I was excited to race on it. Many of the choices I made that day during the race were based on my assumption that I could make the break and possibly get a jersey, as I had done in the earlier part of the season in Europe. When I made my final attack, I just wanted to see if I could spend some time solo in a very media heavy period of the race. I thought I would definitely get caught in the last few kilometers. The combination of the surprising victory and that victory being in my home state made that day very special for me."
While there is not many chances for Gage to wear his U23 crit champs jersey in Europe in 2019, he will have plenty of opportunities to wear the time trial jersey. He spoke about the honour and excitement he has of taking the stars and stripes kit to Europe for 2019.
"I am very excited. It's a huge honour to get to wear one's national flag in events. I am excited to be able to carry this with me."
Speaking of Europe, this was Gage's first season where he raced on the continent as an U23. Gage raced at the Peace Race, Ronde van Overijssel, Circuit de Wallonie, Rhone-Alpes Isere Tour and the Ronde de l'Isard in 2018. He spoke about the brilliant opportunity he had to experience European racing.
"This was my first U23 road season in Europe. The biggest differences I noticed were the size of the roads and the eagerness of the riders. As silly as it sounds, road size makes a big difference in tactics and how we rode in the group. The other noticeable item is how much more often riders want to attack. It's hard to remember a time when the group was not going full gas."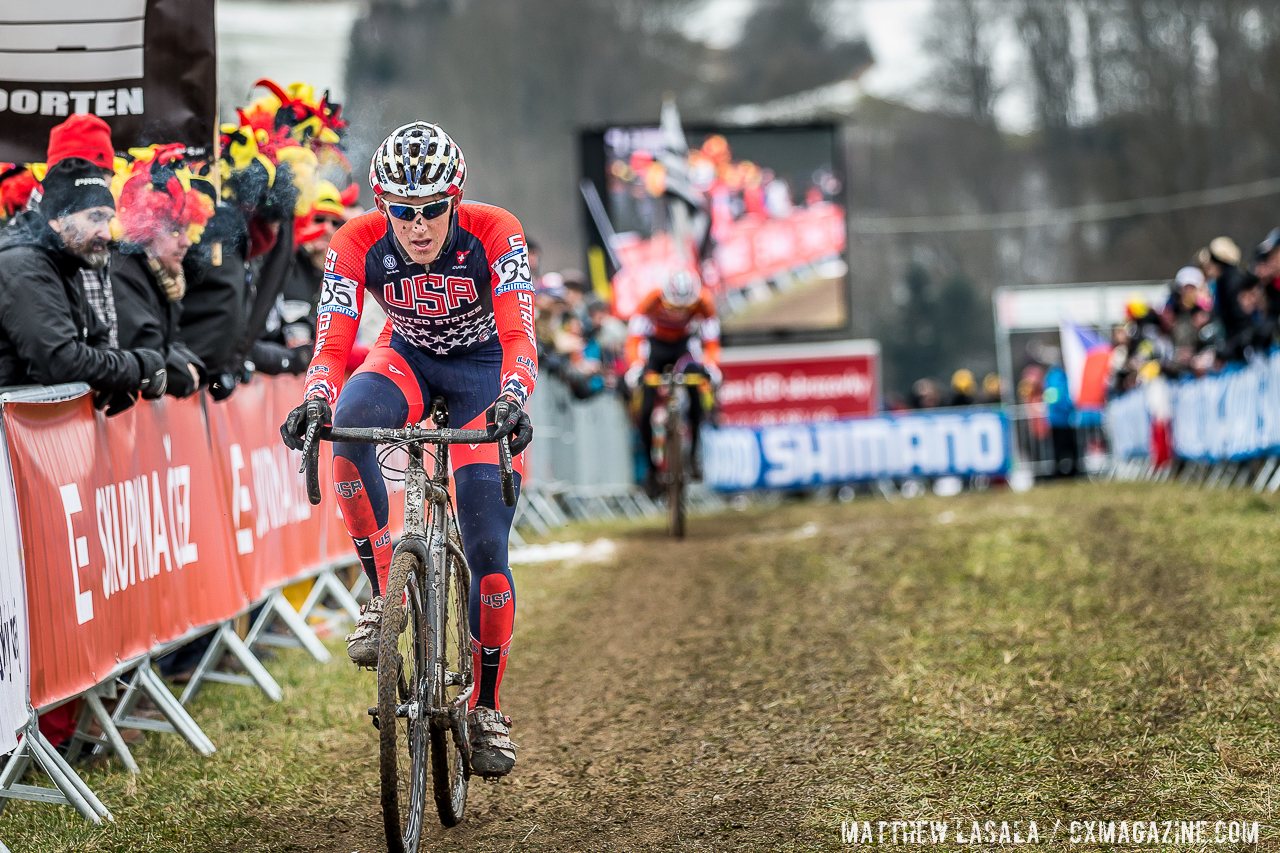 As well as all the wins, Michael Creed's Aevolo team also had the honour of sending their first rider to the WorldTour, when Mexican Luis Villalobos will join EF Educatin First-Drapac p/b Cannondale at some point in 2019, after starting the year with Aevolo. The team is so young that Creed is not forced to bump anyone from the roster due to the "ageing out" rule in the U23s. so just how has Creed managed to get so much success from Gage and his fellow young riders?
"I think that the bond we have as a team is a major part of the reason why the team had the year it had. Of course, Luis is a powerhouse, which is always nice to have, especially with a rider like him. However, we were still able to produce results without him present. The riders all establish a bond that is hard to match. I remember a great example of this showing at U23 nationals this year. In order to create a backup for Alex in the breakaway, we rode the front for the final fifteen kilometers or so, full gas, in tough conditions. Even after this effort, the team pulled together an amazing leadout and gave it everything to give Michael Hernadez a chance at the win. Unfortunately, we had some bad luck and he ended up crashing in the final lap. I think we all have the understanding that each of us will do what it takes to put each other in a position for success."
Given Gage's abilities on flat roads, there was only ever going to be one pro race he desired to win.
"For me it would be Paris Roubaix. I love the amount of fortitude and guts it takes to win a race like this. There's something special about finishing in the velodrome too."
U23 Cycling Zone wishes to thank Gage for giving up some of his valuable time in the offseason to answer our questions. We also wish to thank Aevolo's PR guru Clara Beard for setting the whole thing up. You can follow the team on Twitter at @Aevolo_Cycling. Gage is also on Twitter, and you can follow him here.