Daring escape artist Samuele Zoccarato of Team General Store Bottoli was one of the revelations of the late season, culminating with a win in the prestigious Ruota d'Oro and a transfer to IAM-Excelsior for the 2019 season.
U23 Cycling Zone caught up with Samuele not long after he ended his season to talk 2018, his growing process and IAM-Excelsior.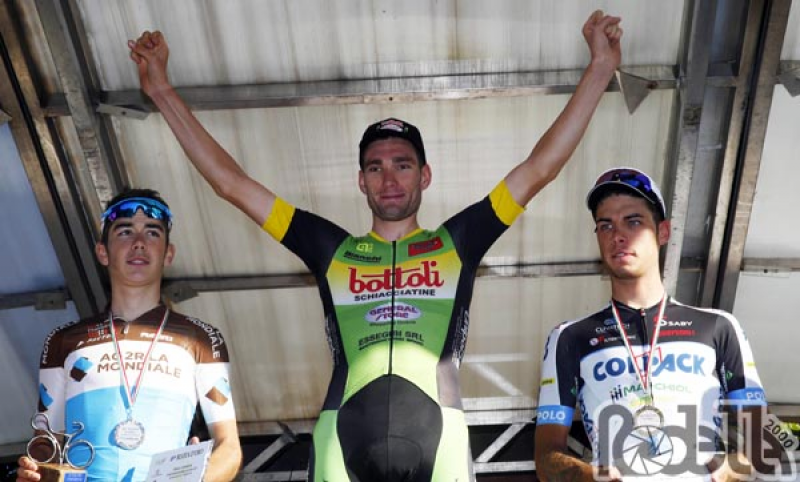 "The 2018 season was an unexpected one for me. It was October 2017 when Giorgio Furlan called me and told me that he had a good growth project for cyclists and wanted to focus on me. I was a bit surprised that one of the best teams in Italy wanted me. Since the winter, Giorgio taught me that hard work always pays off, but I didn't have to have hurry. I trained well and consistently, I tried to give my best on every occasion, in every race I participated. I always tried to go in the breakaway, in the first part of the season really I didn't try to do results because my unique target was to grow. Slowly, I started trying to finish races off, and I started to collect results and increase my self-esteem. I gave some good performance in international races like Giro U23, Capodarco and Giro del Trentino. The apotheosis of my season was the Ruota d'Oro. The best experience, wearing the national team shirt in my first professional race, Giro dell'Emilia."
Samuele admits he is a rider who will not find winning easy given his skillset, but he knows he is brutally strong and can succeed from breakaways. Thing a younger version of Thomas De Gendt and you get an idea of Zoccarato's riding style.
"I am a warmonger, I like to go in the breakaway. Probably the breakaway is the most unique way to win. One of my characteristics is that I can make high wattage for 3-4 hours. Surely in the climbs, I can't stay with the stronger guys of the peloton, because I am relatively heavy, but if I take a climb with a 1 or 2 minute advantage, I can hold them off. I think that my weaknesses are sprints and changes of pace in short climbs. I am working on it. Finally, I would like to increase my TT skills. This season I did my first ITT, only to try a new thing, but I took a surprising 4th place at the U23 national championships."
Naturally, attention soon turned to the Ruota d'Oro, the crowning glory, the "apotheosis of the season" as Samuele described his win. He went into some serious detail about the biggest win of his young career.
"That day I wanted to do a great performance, I had promised myself to not waste energy and attack in the end. Nevertheless, I found myself in the breakaway with the strongest rider in the peloton that day, Clément Champoussin,(Chambery CCF) with 120km left to the finish. I saw that Champoussin wanted to pull and I followed him. The last 10km was thrilling, we had around 30 seconds, 1 climb left to do and a lot of difficulty. Clément attack in the climb, I tried to follow him and couldn't, but I could catch him in the last 4 km and I beat him on the sprint. What a great emotion. It was the result of so much effort and perseverance, the hard work finally paid me back."
Zoccarato said his switch from General Store Bottoli to Switzerland and IAM-Excelsior was prompted more by his desire to race an international calendar than anything else. He said he requires stage races more than one-day events, as he preps himself to try and become a pro.
"An Italian U23 rider usually does around 50 one-day races for season, but only 2 or 3 stage races. For me, this is unacceptable, because the majority of pro races are stage races. Moreover you ride them all year with the same opponents and probably you can imagine who will win. IAM give me the opportunity to do the most important races of Europe, with an organization similar to a WorldTour team. Nevertheless, I really enjoyed my time at Team General Store Bottoli, they give me a lot. For the 2019 season, I want to continue my growing process, learn a lot and why not make some good performances."
Unlike most riders, Samuele doesn't have a favourite race he wants to win, but he does in fact have a set style he wants to win his race in.
"I don't have a favourite race, for me all races have something special. I would rather prefer win a race with a daring exploit from the break like I did at the Ruota d'Oro."
U23 Cycling Zone wishes to thank Samuele for giving us some of his valuable offseason time and answering our questions. If you want to keep up with his soon-to-be former team, who launched former interviewee Rasmus Byriel Iversen to the WorldTour with Lotto-Soudal this season, then follow General Store Bottoli on Twitter here. Samuele himself is new to the app, so make sure you give him a follow! His handle is @ZOCC2.