For the best part of a decade, Denmark has been regularly producing some of the hottest U23 prospects via the country's numerous UCI Continental teams. There, the riders are able to mix racing the top U23 events, particularly the Nations Cup events with the national team, with the abundance of pro races in Scandinavia, allowing for steady and effective rider development.
One of those Danish squads that take on both seasoned pros as well as top U23 talents are ColoQuick, and for the 2018 season, they won the race to sign the 2017 Junior World Road Race champion Julius Johansen. Just a week or so after the team proudly confirmed Johansen had signed an extension with the team for 2019, Johansen spoke exclusively with U23 Cycling Zone about his first season in the U23 ranks, where he really shone, as well as his plans for 2019 with ColoQuick.
"This season has succeeded my own expectations by winning the national U23 championship, Olympias Tour and not least the best young rider's jersey at the Tour of Denmark. I expected it to be much more of a challenge for me, but riding with my teammates and learning from them from race to race really helped me develop on the road."
Johansen entered the 2018 season best known for his TT abilities, having been one of the best in the junior ranks in 2017. However, we did see in smaller spells his fast finish. Overall, Johansen has a really wide range of skills, which will allow him to become a real threat in both stage races and Classics. When he attacks, few can follow, which his Instagram bio points out.
"I am a strong rider, so my physicality is obviously not an advantage on the mountains, but in shorter stage races I can balance my strength and do well on the hills and win the sprint."
Julius has already listed some of his biggest results this year, but he proved just what a phenomenal talent he is when he secured 5th on GC at the Tour of Denmark against a lot of top WorldTour and Pro Conti riders. There is no question this is the standout result of his season.
"I had been focusing on the race the whole season and I really hoped to be one of the six riders to represent ColoQuick, so I did my best all year to be ready. I spent the time before the race in Livigno, together with the national track team, and had a lot of good training, so I was focused and in good psychical shape. My attack on the steep climb to Kiddesvej on the second stage, together with a good time trial, made my chances for the overall really good and it was really a good race for me and the team. Of course, there are things I can do better, so I look forward continuing my development on Team ColoQuick."
The other important result Julius scored on home soil was the National U23 Road Race title. While he knows how special his new jersey is, he was only able to wear it for one day, as the only race he did after the title was the Olympias Tour, and after winning stage one, he spent the race in the leaders jersey or in other classification jerseys. But he looks forward to donning the champions colours more in 2019.
"This season I only got to wear it in the first stage of Olympias Tour and for training, but it feels fantastic. I am proud of the result and I look forward wearing it next year."
Julius revealed that after the 2018 season, there was only one natural choice for where he wanted to ride in 2019: right where he is at ColoQuick.
"I know I must focus on my development to become a pro and ColoQuick is the team that can give me the best personal guidance and development, and that is crucial at my age. I am really happy to be part of ColoQuick, and I have a great cooperation with the staff and my teammates, and fortunately they are happy about me as well.
ColoQuick gives me the opportunity to combine both road and track races, which is important to me to be able to reach my goals."
Turning our attention towards the 2019 season, Julius will again be quiet in the early part of the season, as he aims to finish school work, which he rightfully says is also very important to him. While this means he may miss the U23 Classics once more, he will be once again fresh and in good shape for another crack at his national tour.
"Tour of Denmark is definitely a goal for me next season, so I hope I will be racing there again. But this spring, I also have to focus on my exams at school, to be able to focus 100% on cycling afterwards."
A rider with a fast finish, an excellent time trial and the ability to produce a lot of watts for prolonged periods of time, it is not hard to see why many people in the Danish cycling world are keen to compare Julius to Fabian Cancellara. Julius himself admits Spartacus is his idol, and he dreams of winning one of the pro races that help create the Swiss star's legend.
"If I could win one pro race, it would definitely be Paris-Roubaix. It is known to be a very hard race, so if I should be so lucky to win it one day, it would be much more prestigious to me than winning the other big races. And then Cancellara is my big idol and I have some similar strengths as he does, so the race should suit me well."
With his track goals leading him to the 2020 Olympics in Tokyo, there is a very good chance you may not see Julius Johansen on the WorldTour until the 2021 season. While this means we may need to accept only seeing him fleetingly for the next two seasons, there is no doubt that every time he steps on his bike, he will be up there contesting the win. This kid is special.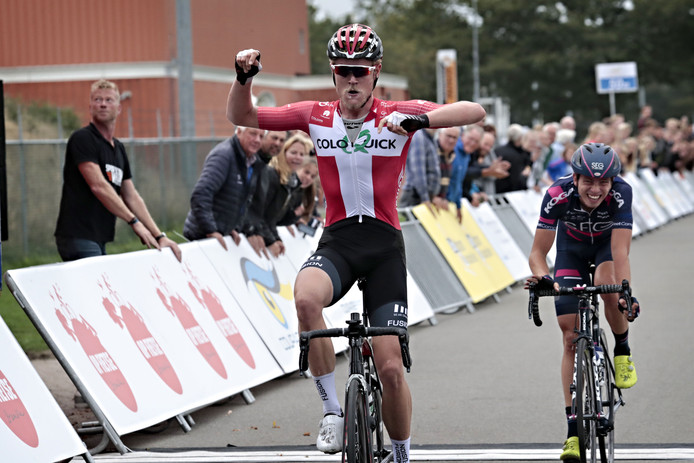 U23 Cycling Zone wishes to thank Julius for giving up his time to answer our questions, and we wish him all the best for his track and road ambitions, as well as his exams. We also wish to thank Trine Marie Hansen at ColoQuick for coordinating the interview. Unfortunately neither the team, or Julius are on Twitter, but both are active on Instagram. The team can be found here, whilst Julius' page is here. We strongly recommend giving both a follow!