Despite only being a new arrival at Lotto-Soudal U23 for the 2018 season, Julian Mertens has made quite an impact on his new team. A quiet second half of the season was strongly overshadowed by a phenomenal first half of the year, which saw Mertens excel in virtually every race he took part in, regardless of the terrain.
After ending his season after the Tour of Slovakia, Mertens was gracious enough to give some of his valuable offseason time to U23 Cycling Zone, discussing his season, as well as the future. So read on if you would like to get to know more about the versatile man from Lille, a town which is also the hometown of Belgian cross legends Sanne Cant and Wout Van Aert.
"2017 was a good season for me, but I raced a lot of smaller events, as well as in Spain and France, but they were not UCI races. Lotto-Soudal U23 picked me up for 2018 and I've pretty much only raced UCI events. From the go, it was good. I was 6th in GP Lillers in France vs Pro Conti teams like Vital Concept and SportVlaanderen. Ever since then, I have competed with the best for the win, especially in the first part of the year. I am less happy with my second half, as my good condition didn't quite return after the Ronde de l'Isard."
Indeed Mertens was electric in the first half of the year, following his 6th in Lillers with 10th overall in Circuit des Ardennes, 7th in U23 Liege, 3rd in a Tour du Jura stage, 8th in Frankfurt U23 and 9th in Fleche Ardennaise. But he agrees his stand out performance came in Isard, where he was a surprising 3rd overall. His second half of the year was more barren, but he did add 3rd and 7th places at stages in the U23 Giro.
"I really didn't expect to be good there. I didn't see myself competing in the mountains. I know they are not the highest mountains, but they are still the Pyrenees, considerably higher hills than in the Ardennes," Mertens jokes. "I took real confidence from that race. I was 2nd on two stages and fifth on another, and on the final day I crashed, which ruined my chance for another second place (Dimension Data's new recruit Gino Mader was already minutes clear up the road, on route to his first big win of the season, ed.) and also second overall. In the end, I was third on the GC. It was a surprise."
Mertens results show just how versatile he is, which is why he will be a leader in so many races for Lotto-Soudal U23 next season. Strong in reduced group sprints too, Julian talked about his abilities over most terrains.
"For me, it's fun to compete on different terrains. There are not many guys who can do this. I know I am not the lightest climber, but I can be competitive on lots of terrains. Even in reduced groups after hard races, I can be the fastest. However, I want to improve everything, from my TT to my sprint. I didn't race many times in Flanders either, but, in theory, I should be good there as I am quite explosive and I like short hills."
Despite his versatility and many good results, Julian's 2018 season did miss a win. How does the 21-year-old (his birthday was Saturday, happy birthday Julian! ed.) feel about not raising his arms?
"I would of course have loved to win a race. I came close a few times, but it didn't happen. This was something I wasn't too happy about. But this is a big reason why I do not mind remaining as a U23 in 2019, so I can try and win those races."
Julian was able to confirm that there was some interest from teams wanting to turn him pro, but it didn't happen. He was more than happy to be able to add another year on a top development team for 2019, which will be his last year as an U23.
"There was some interest, especially after the first half of my year. But when I spoke with my manager in July, there was less interest than before and nothing came through in the end. I rode all season without stress and, after l'Avenir, I started to tire and things went less well. I believe it is better if I remain with Lotto-Soudal U23. This next year needs to be my best so far, and I want to be with the best in the biggest race, like Liege U23."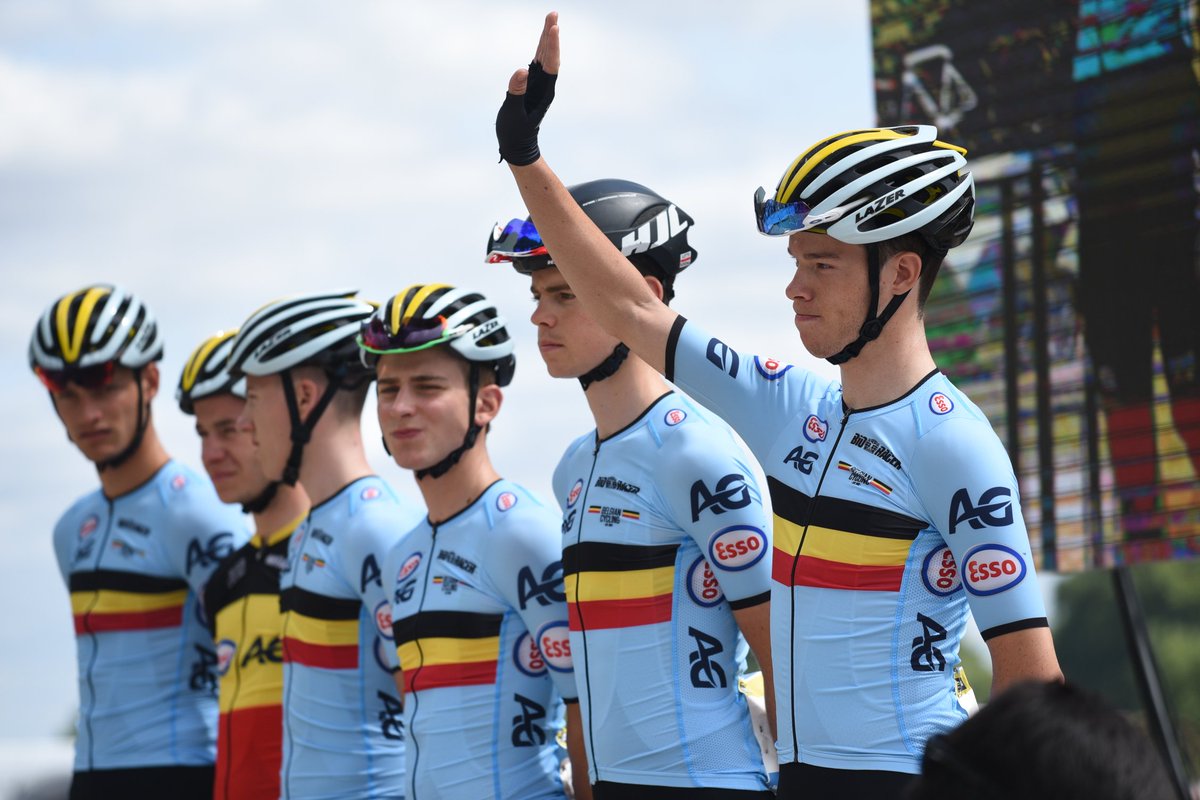 As we touched on earlier, Julian is one of the best puncheurs and climbers on the team for 2019. Is he feeling the pressure about assuming a full-time leadership role within his team?
"Not really, I actually like external pressure. For sure, the only pressure I feel comes from myself. My team and teammates know after this season that I am capable of getting a result for them. This is my final season at this level, it is all or nothing. It is so hard to go pro once you leave the U23s. Yet I am not stressed, if it happens then great, if something bad happens like sickness and crashes, then I cannot control that. But I will do everything possible to make it as a pro."
After he ended his year in Slovakia, the home of former World Champion Peter Sagan, he was unable to be selected by Belgium for the World Champs, where former Lotto-Soudal U23 rider Bjorg Lambrecht was 2nd. Mertens was very mature all interview, but when asked if he regretted not being there, he gave his most mature answer of the interview, proving he is not just ready to help his teammates, but to be a pro in my opinion.
"I was sick after l'Avenir and my form went downhill. I raced against the pros in Slovakia and had really bad feelings. My resting heart rate was so high and I was so tired. I spoke with my coach and we agreed to end the season immediately. We only had a five man team for the Worlds, and in my opinion, I would not have been able to help the Belgian team in Innsbruck, so it was better to take someone else who could actually help Bjorg. It was for the best that I was not picked."
Despite admitting his cobbled experience is limited, Julian went down a surprise route when asked what his dream pro race to win is.
"I know I am dreaming a little, since my 65kg frame does not really suit the cobbles at all, but I must say Paris-Roubaix. It is the greatest one-day race for me, not including the Worlds. There is so much history to it, and it is such an awesome race. There are some races where only the last hour is interesting, even still there are some races where only the final ten minutes are worth watching. But, for me, I can watch Paris-Roubaix from the very start till the end. This race is a dream for me."
Julian Mertens is going to be a star next year in the U23 ranks. It is probably a safer bet that he will excel in the one-day races, but as we have seen in 2018, he can perform in stage races, even when mountains are on the menu. I have no doubt in my mind that at some point in 2019, Julian Mertens will sign a pro contract with a lucky team.
U23 Cycling Zone wishes to thank Julian for giving up his offseason time to speak with us, and we wish him all the best for his final year in the division and his hunt for a pro contract. If you want to follow Julian on Twitter, his handle is @MertensJulian.