Whilst the U23 racing season has been underway since early March (January if you counts the Nations Cup stage race for the African nations), arguably the mot important months of the season are August and September. Why? Because those months play host to the biggest U23 races of the season, the Tour de l'Avenir and U23 Worlds.
Whilst it is no longer the case that pro teams look solely at these races for identifying and signing young talents as they now have a diverse calendar of events to view U23s, these races are still viewed by the traditionalists as the most important events for the aspiring pros.
While the race for a Rainbow Jersey at this level does seem somewhat pointless, given most winners go pro after and do not get a chance to wear the jersey in a race, outside of perhaps lining up in week's or so at Piccolo Lombardia or Paris-Tours U23, the race is still a key point in many rider's seasons. Including every edition since 2007, only 2016 winner Kristoffer Halvorsen elected to remain as an U23 and raced in the Rainbow Jersey. But as mentioned, being a world champ carries tremendous weight, regardless of the age category.
This year's course will be very hard to predict, and yes, we are getting our excuses in early. With La Flamme Rouge reporting over 3000m of climbing over the 180km course, the sprinters have wisely chosen to stay at home. That means we are left with Classics riders, puncheurs and pure climbers. Now the solo win is always possible, but trying to pick some faster finishers from a group of climbers can be a relatively tough experience. Nonetheless, further on in this article, will give you our list of favourites.
For now though, lets analyse the parcours…
THE COURSE
At 180km long, this is lengthy by U23 standards. Like most U23 RRs, the race is split into two parts. Part one here is the ride to the circuit, a total of 83.5km (the riders pass the finish line for the first time just 1km later to begin the laps). On the ride to the circuit, there are a few early climbs, but the only one of real note is the Gnadenwald hill 65km in, which is a hard climb averaging 10.5% over 2.5km. There is a pitch of 14% at the bottom, a 13% pitch right at the top, as well as a stretch of 500m at 13.2% in the middle. A tough climb, but the only real obstacle of note on route to the final.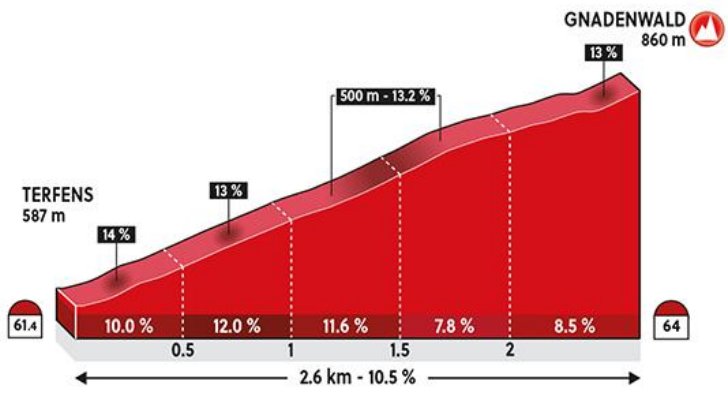 The circuit itself is fairly straight forward. 24km long and comprised essentially of 4km of flat roads, an almost 7km long climb and then descent, before a flat final 13km to the line. The Igls climb is 7.9km long at 5.7%, but the opening four kilometres average 3.6%, 5.4%, 6.1% and 4.9%, things get much harder in the second half of the climb. Kilometres 5 and 6 average 7.2% put together, and there is a 400m stretch of road at 9.8% during kilometre 5, whilst kilometre 6 plays host to pitches of 10%, although mercifully for the riders, not for too long. The climbs final two kilometres average 5.9% and 5%.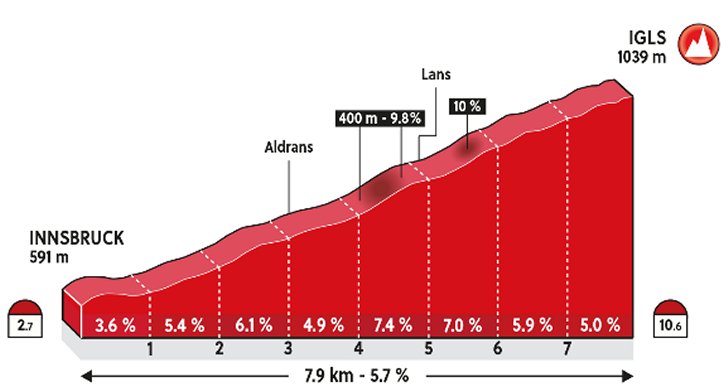 The final 13km or so are mainly flat. The descent from Igls is not too technical. There is a slight rise between 4km and 3km to go, which may offer one last springboard for a rider to break free from a select lead group, or perhaps bridge across to one. The flat kilometres are quite technical, with a lot of right and left hand bends, which may favour a solo rider or a small group trying to remain out of sight from a larger chase. However, the final kilometre or so is straight.
THE FAVOURITES:
Lambrecht. Credit: Photo News/Lotto-Soudal
Winner Candidates: Bjorg Lambrecht (Belgium) Robert Stannard (Australia), Gino Mader (Switzerland)
Podium Contenders: Eddie Dunbar (Ireland), Tadej Pogacar (Slovenia), Neilson Powless (USA)
Outsiders: Ivan Sosa (Colombia), Alessandro Covi (Italy), Ethan Hayter (GB)
Jokers: Pascal Eenkhoorn (Netherlands), Valentin Madouas (France), Mikkel Bjerg (Denmark)
Bjorg Lambrecht may not be a TT star, but the WorldTour rider is an excellent climber, but also proved at the Tour des Fjords that he packs a fast sprint. Aided by fellow WorldTour rider Stef Cras, Lambrecht should be able to keep pace on the climbs comfortably, and then if the race comes down to a sprint between climbers, there will be few who can match him in the sprint. His TT ability is not the best, so a solo move from the final Igls ascent is not exactly a likely outcome for him, but he can win in every other way possible. Say what you want about WorldTour guys being allowed in this event, but Lambrecht is here and he is a favourite.
Robert Stannard is one of the best one-day racers at the U23 level and despite only turning 20 less than two weeks ago, he is a favourite here. Disclaimer: he can be a little hit and miss and he does have two WorldTour climbers in his team in Jai Hindley and Michael Storer, so outright leadership is not guaranteed. But facts are facts. Stannard can climb well and is the fastest of all possible contenders at this race, so losing a sprint is not going t happen unless he is completely gassed in the final. Stannard could finish last here, he could abandon, but there is also a very real chance he wins this bike race. That is why I have ranked him so highly.
Gino Mader will have a massive target on his back after the year he has had, but the fact of the matter is this: he still finds ways to win. Five brilliant wins, four at U23 level, including a brace of wins en route to 3rd in l'Avenir being the pick of the bunch. He can TT really well, climbs well and won the sprint from climbers on the final day in France, meaning if he can shed Stannard, he probably becomes the defacto favourite. After months of denying the hype, Mader is firmly a winner candidate for me at this race.
Eddie Dunbar was the man beaten by Mader in that l'Avenir sprint, and Sky's latest signing was excellent in the recent pro Italian one-day races, firmly marking himself as a big contender for this race. Dunbar is a pretty complete rider, and has a lot of different ways available to him in terms of winning this bike race. His team is perhaps a little weaker than some of his biggest rivals, which may leave him isolated early, but Dunbar faced a similar problem in l'Avenir and still rode a nice race. A podium would be a great result.
l'Avenir champ Tadej Pogacar has carried his brilliant form on from the French race, taking the win overall at Giro della Friulli and then 4th in a warm up race here in Austria. The Slovenian also has a weaker team in terms of climbing support, which also almost cost him on the final day in France a month ago. A strong climber and descender, who also excels on a TT bike and is relatively quick in a sprint, Pogacar is another rider who can win this race from a variety of scenarios. Can his form last just one more race?
Neilson Powless has all the right qualities to win this race, but LottoNL-Jumbo's American climber is a little bit of an unknown quantity in one-day races. He was 7th in the Tour of Britain recently, before taking 10th (Worlds teammates Sean Bennett and Brandon McNulty finished on either side of Powless) at the same Austrian one-day race Pogacar was fourth in. His form looks OK, but is that going to be enough to win here? If it has trended upwards since the Worlds TTT almost a week ago, he and his two US teammates can be very aggressive and can bring the US a medal of some colour.
Ivan Sosa's Colombian team is not as strong as his l'Avenir team was, but the fact he is still probably the best pure climber here will help his cause. Having Einer Rubio and Alejandro Osorio, who were both in good shape last month, is an added bonus. Here lies his problem: he is a terrible TTer, so a solo attack is not going to happen. The descent is too far from home for him to survive and he is not going to be favourite to win a sprint. But if he can set a fierce tempo and get rid of a lot of the faster riders early, he may just be able to force a selection that gives him a medal before he heads off to the WorldTour, regardless of which team that is actually with.
Alessandro Covi, signed by UAE for the 2020 season, has a perfect blend of climbing and one-day pedigree. 8th overall in the U23 Giro was followed by a stage win in l'Avenir, and he has looked OK since joining his future team as a stagiaire this autumn. He may not pack a fast sprint or be the best climber, but here is his big advantage: he rides on the strongest team here. Italy have Covi, Alessandro Fedeli, Samuele Battistella, Andrea Bagioli and Matteo Sobrero all as genuine potential candidates for a good result in this race. We do not know who will lead, and opted for Covi because he seems the most well-rounded on the team. None of the Italians are outright favourites, but we all know how QuickStep use numbers to their advantage. If Italy do the same, they can win this race, and it would be an added bonus for us if Covi is the man to do it.
After doing a lot of track work this season, Ethan Hayter has still more than impressed on the road. He was amazing in the ITT, landing 5th spot, and he sounded surprised he was able to go that well given his lack of road time. We have relegated him to outsider status because his form might not be strong enough to win a hard road race like this. But if he is in shape, his climbing and TT power, plus his very fast sprint would make him a perfect candidate. Ethan Hayter World Champ has a nice ring to it, but we may need to wait for Yorkshire 2019 to hear it on the road…
Now for our jokers: Pascal Eenkhoorn raced well in the States at altitude and was going well in Britain, but this race may be too hard for the Dutchman. France have options in there team, with FDJ's Valentin Madouas is another rider who has form and a good set of skills for this race, but will he be too fatigued after his neo-pro season, where he has done a lot of racing? It would be a long shot, but we have all seen how well two-time ITT World Champ Mikkel Bjerg has climbed this season, so could he pull off a famous solo, to match his junior counterpart Remco Evenepoel by taking out both world titles?