While Trevigiani Phonix-Hemus 1896 climbers
Zahiri Abderrahim
,
Alessandro Fedeli
and Filippo Zana have attracted a lot of attention this season for their results, Spanish sprinter Manuel Penalver Aniorte has quietly strung together some very nice results, especially in some early season races against WorldTour sprinters.
U23 Cycling Zone caught up with the 19 year old just before he departed for the Far East, where he will race the Tour of China. Now you can get to know more about Manuel through his own words, after he burst onto the U23 scene with 11th in the crash-marred sprint in Denmark at the European U23 Road Race Championships.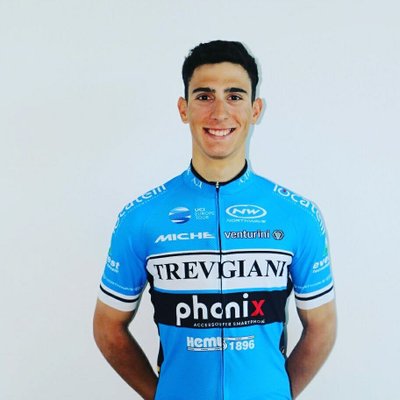 "My season has been good, although I would have liked to have a better one since I adapted well to the category but the crash in ZLM Tour influenced the rest of the season. With the team it has been as if they were my family, both with Mirko (Team manager Mirko Rossato, ed), staff and colleagues, who are all great people and the treatment towards me has been great, I am super happy with the Trevigiani family."
From the gun, Penalver caught the eye with top tens in all three sprints at the Oro y Paz race in Colombia, as well as achieving the feat twice at Argentina's Tour of San Juan. Some of the names who beat him: Gaviria, Nizzolo, Richeze, Ackermann, Hodeg… Some very big names for such a young rider to be keeping company with. Manuel talked a little about his early season sprint success.
"For me to reach those top tens with WorldTour guys was a real boost of motivation and confidence to keep working, since I saw that I could be in the mix with those big names."
It is true to say that not all sprinters are the same. Some prefer smaller groups, hillier parcours, leadouts etc etc. So what type of sprints does the man from Torrevieja ideally prefer?
"I consider myself a complete sprinter. I like to do sprints in big groups, as well as in smaller groups with explosive endings. With the climbs, I can defend myself well in smaller mountain climbs of 4 or 5 km, but longer than that at the moment is tough for me, but as the years go by I am sure I will improve my resistance."
As mentioned earlier, the team has had a lot of success this year with plenty of big names on the roster, especially Fedeli, who has had his 2018 season rewarded with a stagiaire spot and now a neo-pro deal with Delko Marseille. Manuel spoke about what the atmosphere within the team has been during these successful months.
"For me being part of this winning team makes me feel motivated and makes me feel proud to be part of this team and those victories."
After admitting the ZLM crash has held him back, Manuel hopes to return to the Spanish fold next season, for races like the Worlds, Tour de l'Avenir, Peace Race and the ZLM Tour. He knows this is where he will be able to compare himself against the fastest U23 sprinters.
"I would like to go back and ride Nations Cup stages, especially the ones good for my characteristics and to take part to Tour de l'Avenir to test myself in the sprint finishes."
Speaking of his remaining goals for 2018, Manuel hopes to find success in both the Chinese national tours, before returning to Europe for a potentially very well-suited Italian one-day race.
"I only have scheduled Tour of China I and II plus a one-day race in Italy, Tre Valli Varesine. My goal is to win a stage or climb the podium in a stage in China. It will be difficult as there are strong teams but we arrived in good physical condition and are very motivated."
Turning to the future, Manuel was willing to speak a little on the goals he has for himself later down the line, including winning a big Italian Monument which has a rather famous finish.
"I would like to win stages at all three Grand Tours as I love the Giro, Tour and Vuelta, but above all I would like to win Milan-Sanremo, which is my dream race."
To rub shoulders with the sprinters that raced in South America this January at just 19 showcases what a talent Manuel is. If he keeps this career progression up, the Spaniard will be a sprinting name to watch from 2019 onwards.
U23 Cycling Zone wishes to thank Manuel for taking part in the interview, especially before such a heavy travelling schedule, and we wish him all the best for the rest of the season. We also wish to thank Giulia De Maio at Trevigiani Phonix-Hemus 1896 for helping coordiante and translate the interview. You can follow Manuel on Twitter at
@PenalverAniorte
.