As the race finishes in Paris this evening with yet another Team Sky win courtesy of Geraint Thomas, it is becoming increasingly clear that there have been plenty of brilliant storylines to follow at this year's Tour de France, from Chris Froome's double attempt, Tom Dumoulin matching him almost stride for stride, pedalstroke for pedalstroke, over 42 stages, the rise and rise of Geraint Thomas and the proof that Primoz Roglic can in fact hold it together for three weeks, along with countless others stories.
But for a site like ours that specialises in the world of U23 cycling, one story stands head and shoulders above others: Egan Bernal has been the unquestionable star of this Tour. At just 21 and riding his first three week Tour, the Colombian, racing his first season with Team Sky after two years at Androni, absolutely destroyed the final 10 stages pre-Paris, not only proving just how good a climber he is, but appointing himself as the next defacto Sky Tour winner, and hopefully Colombia's first. Now I know we do not write about pro riders, but to simply offer just passing comment on Bernal seems borderline disrespectful to his immense talent.
Now it is important to note Bernal is not actually a neo-pro, and spent two years learning the ropes under savvy Gianni Savio at Androni in Italy. There, he took a score of big results in Italian stage races, as well as winning two stages and the GC at Romani's Sibiu Tour, the uphill TT (more on that later) and the GC at Tour de Savoie Mont Blanc in France and then his crowning glory of last season: two stages and the GC at the U23 Tour de France, or the Tour de l'Avenir to give it its true moniker. This race always mean a lot, but especially to the Colombians. Bernal joins riders like Miguel Angel Lopez, Nairo Quintana and Esteban Chaves as Colombian winners of the race, and his former teammate at Androni Ivan Sosa is going to try and win it this season.
Sky made the call to buy him out of his contract at Androni last season and announced the move the day he wrapped up the title in l'Avenir. Everyone was keen to see what he could do, but it is hard to imagine many could envisage what he has done this year. I firmly believe Sky probably had a three-year plan with Bernal: year one allowed him to race a few more WorldTour races and even afforded him leadership in events like the Tour Down Under. A possible debut Grand Tour was probably on the cards at La Vuelta too. In year two, I envisaged Sky handing him more leadership roles, possible in the biggest WorldTour stage races like Tirreno, Paris-Nice, the Dauphine or Suisse. A Tour debut would have been likely. Year three I imagine Sky would put him in a Grand Tour and see what he could do GC wise.
However, 2018 had elements and issues that effectively created a perfect storm that allowed Bernal to really accelerate his growth and become the future of the team already after six months with the British superteam.
In order to understand how Team Sky works, you must first take into account the pecking order: Froome is clearly the alpha and leads wherever he wants, Thomas has virtually the same privilege after some strong showings in the previous seasons. Virtually everyone else will spend three weeks slaving for these guys, but the caveat Sky offer riders who join them is this: sacrifice your Grand Tour goals and we will give you stage race goals. So the pecking order is something like this: Froome and Thomas, followed by guys like Wout Poels, Sergio Henao, Bernal, Michal Kwiatkowski and David de la Cruz. All of these riders have proven they can lead the team at WorldTour level. For some non-WorldTour races like the Scandinavian events, Tour of Britain, Coppi e Bartali, Route du Sud, Volta ao Algarve etc etc, guys like Tao Geoghegan Hart, Jonathan Castrviejo, Diego Rosa, Kenny Elissonde and neo-pro Pavel Sivakov have all been given chances to lead the team. And then Gianni Moscon, when he isn't being chucked off races, fits in somewhere as Classics rider but also super climber, so he could also feasibly lead a few races at WorldTour level. That is a lot of mouths to feed, and while Bernal was probably close to the top of the food chain already when he signed for Sky this offseason, chances to lead were at a minimum.
But this year was different. Chris Froome has attempted a double before, and he was successful, taking both titles at last year's Tour and Vuelta. But the Giro-Tour double is a different beast, and it became clear that virtually two different teams would be needed. That is 14 riders to support Froome (it was 13, Wout Poels did the double with Froome). This split the team into two different factions, the Giro team and the Tour team. Sky famously prefer to prep for Grand Tours at atltitude rather than at racing, which meant Froome and his Giro domestiques would miss a lot of the spring WorldTour races after Paris-Nice and Tirreno, as would Thomas as he stripped back his racing for the year. Whilst we didn't know until the roster's were announced who would be racing with Froome in Italy, Dave Brailsford and the Sky brain trust did. Sergio Henao, Poels, de la Cruz, Elissonde, Kiryienka, Knees, Puccio would be his team. Froome's double bid meant he only would line up at Tirreno this spring, whilst Poels missed the spring with a crash in Paris-Nice, Henao raced in Catalunya but then headed to the Ardennes to lead there and de la Cruz led in the Basque Country. From the Tour team, Kwiatkowski hrode in the Basque Country, Moscon didn't race at all in the WorldTour after the Classics. Only Castroviejo regularly tuned out, racing Tirreno, Pais Vasco, Romandie and the Dauhpine. There was a real slot now open for leadership in Catalunya, Pais Vasco, California and Romandie, and Bernal stepped up to fill the void.
Again, it is key to take into account how he started his season. His Sky debut came Down Under and, despite being on a course that doesn't really suit him climb-wise, Bernal was 6th overall and best young rider. He then headed home, where he took out his national time trial and then his national stage race, the inaugural Oro y Paz event, ahead of his country's biggest stars at the moment, Quintana and Rigoberto Uran. It was only February, and he had proven he could not just lead the team, but win.
So Bernal took a break after his stint at home and returned with older compatriot Henao at Catalunya, a very hard race with a lot of bad weather. The older Escarbajo suffered, but Bernal flew into 2nd overall behind the ever-impressive Alejandro Valverde. He would beat the likes of Quintana, Latour, Simon Yates and Marc Soler overall. Or so we thought. On the hilly final circuit stage in Barcelona, JJ Rojas was behind teammate Valverde and he, on a very wet day, slid out on a white line. Bernal was right behind and he too would crash, breaking his collarbone, losing 2nd overall and the white jersey. The injury also cost him his chance later on in the Basque Country as he was ruled out of a race that could have suited him.
However, it can be argued that injury and time off left him fresher than most later in the summer, so every cloud does have a silver lining. Bernal reovered in time to start April's Tour de Romandie. With these alttuude camps being the going trend, virtually no Giro contenders race here anymore. But here Bernal was rewrded with yet another piece of luck. This year, with the World Cup final, Tour de France organisers pushed the start of their race back one Sunday in order to not clash with the game. This provided another week to train for the big boys in July, so many of them skipped Romandie too. Only Thomas, Roglic, Dan Martin, Steven Kruijswijk, Richie Porte and Jakob Fuglsang would feature in July, and riders like Fuglsand and Porte would finish 4th and 3rd here, but 12th and a DNF in July. Bernal himself would finish 2nd here but be out of the Tour's top ten. With the competton not necessarily low, but still a little away from peak shape, Bernal was flying, winning the mountain time trial (see, told you we would revist that) and losing the GC by just 8 seconds to Roglic, who won the race off the back of taking third in the race's prologue, ten seconds clear of Bernal. He had now produced yet another top WorldTour result. He was also aided by Thomas being way off form, starting well but eventually finishing 33rd. a star was now born.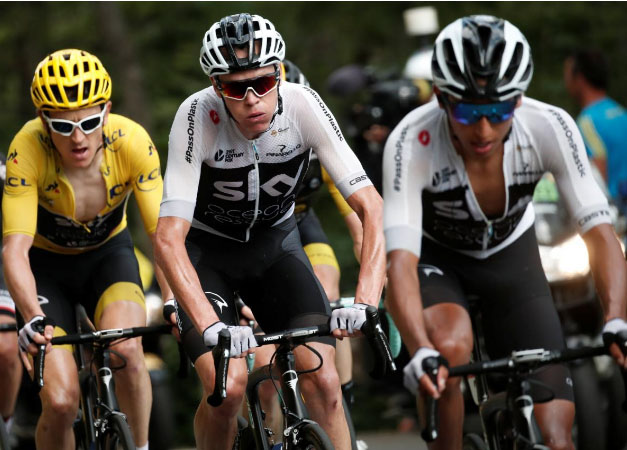 Perhaps pre-season he had been promised the leadership in California, perhaps not. While he had had a co-leader, or at least a more experienced teammate, in races like Catalunya and Romandie, here he had friend Geoghegan Hart, a younger Henao in the shape of Sebastian, and neo-pro Pavel Sivakov for mountain help. Long story short, Bernal won the two stages that mattered and defended well in the TT, winning the GC ahead of names like Tejay van Garderen, Rafal Majka, Adam Yates and Mathias Frank.
He had done enough and made the Tour team. With the race's first nine days comprised mostly of sprints, we only so Bernal three times truly: the TTT, where he finished with the leaders and helped Sky take second, on the punchy stage five where he paced the team before Peter Sagan's Bora squad took over to set him up for an uphill sprint win and on stage nine, the Roubaix cobbles, where he crashed twice and lost 16 minutes roughly to the big GC boys. Without that 16 minute loss, Bernal would have ended the race 9th overall and as best young rider, and he would probably have achieved both regardless if he rode for any other team. He seemed to possible struggle on the first real summit finish on stage 11 to La Rosiere when Thomas would win and take the Yellow Jersey, being dropped by his own teammate Kwiatkowski, not even doing a spell on the front. Was his inclusion a mistake?
Hell no. the very next day, he stoically pulled the GC boys up Alpe d'Huez, taking over with 10km to go and only swinging off with around 4km left. His spell dropped all of the GC riders bar his teammates Froome and Thomas, Romain Bardet, Roglic, Mikel Landa and Vincenzo Nibali. That meant we had what seemed like a real torch passing, when Bernal, poker-faced at the front, dropped fellow poke-faced Colombian Quintana, shelling him still a mammoth 5km from home. Bernal was here. The race then dictated for a few easier days with breakaways taking the wins in the mountains and a general GC ceasefire, as well as a few sprint and transition stages. But on stages 17 and 19, he would be badly needed again.
After a brutally hard 65km stage had reached its final 17km or so on the Col de Portel, Bernal got to work around 10km to go, and was still on the front 2km from home when Tom Dumoulin attacked, taking Roglic and Thomas wit him. Bernal, being the monster he is, saw Froome was in trouble and stayed with him, pacing him to the line, taking 2 seconds on the Brit, he was that strong. 7th place and his first top ten in a Tour stage was his reward. The same scenario happened two days later, with Froome distanced on the final climb and Bernal pacing him back on to the group just before the road tilted downwards towards the line. Without Bernal, Froome may never have gotten back on time and may have had too big a time gap to retake third overall from Roglic.
Essentially, Bernal's stints at the front, at one point in time during the race, dropped everyone bar his two leaders, Dumoulin and Roglic (Nibali also, but he only managed 12 stages thanks to an Alpe d'Huez incident. Get well soon Vincenzo!). That stat itself is insane.
It really feels like this is the arrival of a new generation of Colombian, and that Bernal, Lopez and Dani Martinez can help give the country what they want: a Tour de France winner. And if any of that trio can do it, Bernal seems the one. Adept at both attacking and riding the Sky train, he seems to possess enough TT ability to defend himself, losing less than two minutes on Dumoulin in yesterday's ITT despite the fact Dumulin was racing for the win and GC. The constant Instagram comments from names like Froome, Bradley Wiggins and Alberto Contador (that's seven Tour wins right there) suggests the sport's legends believe he can not just win one, but be great too.
For the rest of the year, his path goes through San Sebastian, and then possibly races like Burgos, Tour of Britain and the Worlds, before he potentially ends his season leading the team at either Guangxi or Turkey. But the long term future heads to one place: France. Bernal will now be trained in the art of Tour winning, possibly via another Grand Tour first, depending on the level of Froome and Thomas, now 33 and 32 respectively.
Sky have made some great decisions over the years: signing Wiggins from Garmin, then backing him in the 2012 Tour when Froome wanted to ride off on the climbs, before then backing Froome all the way in 2013 by sending Wiggins to the Giro. They have always made shrewd signings like Landa, Porte, Mick Rogers, the list goes on. But crucially, when those names decide to go elsewhere to lead themselves, they replace them so well it is like they were never at Sky. Buying Bernal may just be the best decision the team ever made.
While it is true to say that without some of the circumstances this season faced, Bernal may never have raced the Tour and we may never have realised this early that he is probably the best pure climber in the world already at the tender age of 21, know we know. For those who dislike Sky and their ways, those who hoped that once Froome began to decline we would have a few Julys without that famous train destroying dreams watt by watt up some famous climb, you are sorely mistaken. Wiggins, Froome and Thomas are just the beginning. Egan Bernal is the future and the present. Sit back, relax and enjoy the show. To use the old football phrase, "the boy is a bit special".