The Grand Prix Priessnitz Spa (which, for ease, we will from now on refer to as the Peace Race) is the penultimate round of the Nations Cup series for U23 riders, and, like its previous rounds, has assembled a brilliant startlist. Now in it's sixth year since it's resurrection as an U23 stage race, the parcours for the Czech race has gradually shifted. Initially won by all-rounders like Toms Skujins, Sam Spokes and Gregor Muhlberger, the race is now suited to pure climbers: David Gaudu and Bjorg Lambrecht have won the previous two editions and the 2018 course is set to be no different.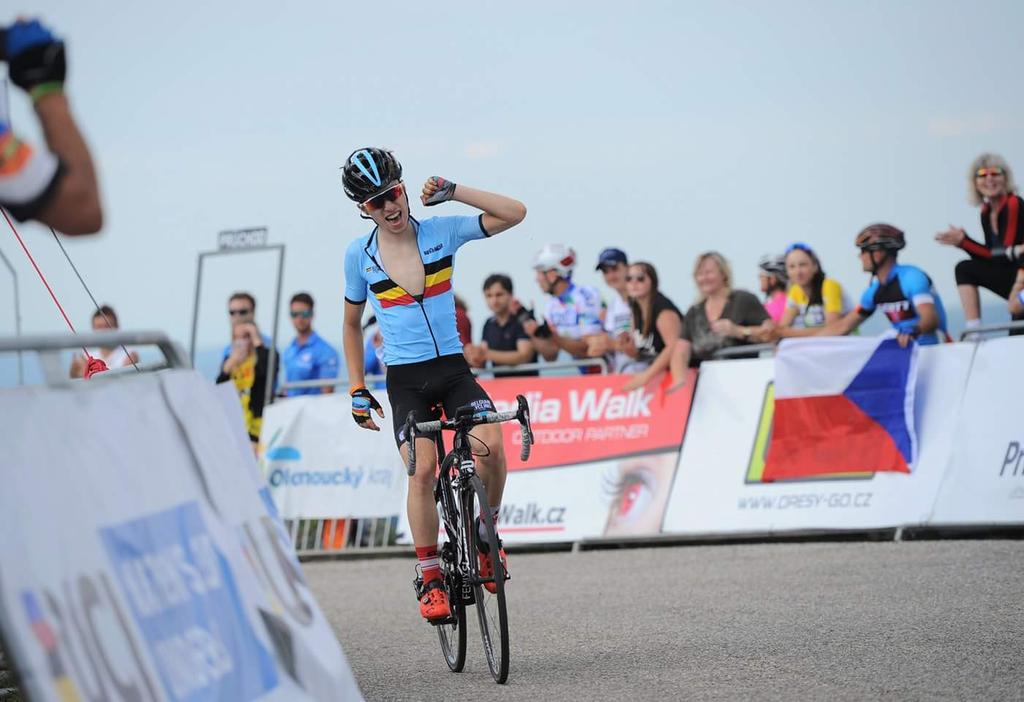 The startlist here is very interesting, with a lot of big star climbers missing, with the Baby Giro just over a week away. This means a lot of young talents have been called up by their national teams, making this race wonderfully unpredictable and offers a unique insight into who the next top U23 riders will be.
Italy have disappointed us by leaving out first year sensation Andrea Bagioli, but nonetheless have taken Fabio Mazzucco, Samuele Battistella, Mattia Bais, Andrea Innocenti, Michel Piccot and Alessandro Fedeli, for a very strong sextet. Only the Danes can match them 1-6 in terms of strength, with climbers Mikkel Honore and Jonas Gregaard being joined by Jesper Schultz, Jonas Vingegaard, last year's junior World RR champ Julius Johansen and reigning U23 World ITT champ Mikkel Bjerg. France will back Aurelien Paret-Peintre, whilst Slovenia go with Tadej Pogacar overall and Ziga Jerman for the sprints. The Dutch field a very young team, with Nils Eekhoff, Thymen Arensman, Daan Hoole and Jens van den Dool starring, with the Swiss leading with Marc Hirschi, Gino Mader and Reto Muller. Luxembourg take their four best U23s in the Wirtgen brothers, Michel Ries and Kevin Geniets, with Russia doing the same thanks to Petr Rikunov, Stepan Kurianov, Nickolay Cherkasov and Aleksandr Vlasov. Another first year sensation, Filip Maciejuk, leads Poland. Norway arrive with Tobias Foss and the in-form 18-year-old Andreas Leknessund, whilst the Belgians are missing Harm Vanhoucke, but take Kobe Goossens, Julian Mertens and Thomas Vereecken. Like Leknessund, the Lotto-Soudal U23 trio featured in the top ten at the recent Ronde de l'Isard. Portugal also bring two top riders from Isard in Tiago Antunes and Joao Almeida. Austria bring the Gamper brothers and Felix Gall, whilst Spain, who often miss the Nations Cup events, have turned up here led by Ibai Azurmendi, 12th in Isard, as well as Diego Pablo Sevilla and Xavier Canellas. The Brits and US have young teams, with Jake Stewart, Ethan Hayter and Fred Wright leading Britain and Edward Anderson leading a US team who will miss talented climber Matteo Jorgenson, out with a collarbone fracture. The Germans round out the list of notable nations, taking Johannes Schinnagel and Georg Zimmermann as their best GC/stage hunting options.
Last year's parcours is identical to this year's. Ivo Oliveira won the prologue, before the break took the win on stage one. Lambrecht beat Niklas Eg and teammate Harm Vanhoucke on the main summit finish, while time gaps on the final day were less than 20 seconds, with Lambrecht beating Eg and Pole Michal Schlegel overall by 15 and 16 seconds respectively.
THE PARCOURS:
PROLOGUE: Krnov (2km)
Shaped sort of like a square with only left-hand bends, this effort is so short that it is likely to be won by a sprinter, rather than a pure time-triallist like Bjerg. Last year's prologue winner, Ivo Oliveira of Portugal, is back to try and repeat the feat of 12 months ago. Time gaps will be tiny (unless someone crashes or it rains) and the race will probably be won by less than a second.
STAGE 1: Jesenik-Rymarov (133km)
It shows how hard this race is that this is considered the bunch sprint stage. The race starts with a 10km climb up to just over 750m above sea level, before descending down to a smaller climb and then descending right into the valley. A long climb to Skritek follows, taking the riders to almost 900m of altitude. After the downhill, the riders find two intermediate sprints either side of the feed zone, where those within 6 seconds of the race lead may try to take the jersey with the bonus seconds. With 97.6km raced, the riders enter the finishing circuit, for three laps of an 11.8km circuit, featuring an uncategorised climb. The final kilometre is slightly uphill at false flat gradients.
The favourites here are likely to be sprinters (provided they make it over the first half of the stage) like Canellas, Stewart, Innocenti, Jerman, Waersted, and the Oliveiras. Failing, that look for punchier riders with fast finishes, including Nils Eekhoff, Mikkel Honore, Mader and Hirschi, Rikunov, Tiller and Battistella.
STAGE 2: Krnov-Dlouhe Strane (151km)
The main summit finish of the race has a different start to yesterday's stage, with pretty flat roads, until the first KOM is climbed at just over 90km raced, which takes the riders to just over 600m. a short descent and flat section is chased quickly by the first big climb of the race, up to just over 1150m, with 31km to go. A long descent (which has an intermediate sprint three-quarters of the way down is met by the final climb, up to over 1300m. That climb is the same as the penultimate climb, but has around 1.5km of downhill flat after the KOM before 1.5km more uphill to the line. From 5km out, there is a kilometre of 10.3% average, meaning this stage, with the double climb, will really create gaps.
STAGE 3: Jesenik-Jesenik (158km)
The last stage has a lot of climbs in it, although they are shorter and not quite as difficult as the double climb of stage two. Again, the opening of the stage is easy, before the first climb is tackled with 70.6km raced, which comes out at 809m. The riders descend and bounce up another climb just 4km later, before 50km of rolling roads. With just over 30km to go, the riders go up to 869m, which becomes very difficult after an almost unnoticeable descent as the riders go up again to over 1000m, which arrives with 25km to race. The riders then have a slightly longer descent, before a final climb for this section up to 938m, which is at 19km to go. Finally, the riders get a long descent before the 3km climb to the line. The first two k's average 8%, although the final kilometre is flatter, which is perfect for a puncheurs finish. This could go to a break or the GC men, but if the GC contests it, then look for Mertens, as well as Antunes, Hirschi Battistella and Pogacar, as all pack a real punchy sprint. This stage is quite reminiscent of an Ardennes Classic, just operating at slightly higher altitude.
THE FAVOURITES: (*based on a provisional startlist)
Winner Candidates: Julian Mertens (Belgium), Aurelien Paret-Peintre (France), Marc Hirschi (Switzerland)
Podium Contenders: Tadej Pogacar (Slovenia), Joao Almeida (Portugal), Andreas Leknessund (Norway)
Outsiders: Tiago Antunes (Portugal), Filip Maciejuk (Poland), Aleksandr Vlasov (Russia)
Joker: Mikkel Honore (Denmark)
Julian Mertens has been amazing all season, with third place in the Isard his latest big achievement. He is the big favourite for the final stage win, given his Ardennes punch, and his sprint means he is a constant threat to steal bonus seconds, which are so crucial to winning this race overall. With Mertens, Goossens and Vereecken, Belgium have three on-form cards to play, but Mertens suits this race best. No doubt buoyed by the success of trade teammate Stan Dewulf winning Roubaix at the weekend, Mertens will be out to make a name for himself by finally securing the big win his season so far has deserved.
Frenchman Aurelien Paret-Peintre had a slow start to the season, but roared into life in Isard, taking second overall. The Frenchman may have preferred longer climbs, but his pedigree in one day race show he does have punch and a sprint, meaning he should be a menacing threat all race, prone to striking at any moment. With a move to AG2R secure, the 21 year old can throw caution to the wind in search of a final big win at this division before going professional in August.
Another rider seeking the big win his season deserves is Marc Hirschi. Always the bridesmaid, the 19-year-old has been great for 18 months now at this level, without every getting his arms in the air on the U23 scene. A talented climber, this Swiss star may lament the lack of kilometres against the clock, but he is a good enough climber to win this race overall. He may lack the support that some of his rivals on stronger nations have, but Hirschi is so talented that we cannot cunt him out. Fourth in the Tour de l'Ain pro race last week underlines his amazing shape.
Tadej Pogacar has been good in the one-day events, but the Slovenian has been a bit hit and miss in stage races this year. Third in Istria back in the spring was followed with a nice 13th place in the high mountains of Croatia, before a slightly underwhelming Fleche du Sud saw him finish in the same place. Pogacar is very likely to go pro this year, with any rumors suggesting a deal with UAE-Team Emirates has been done for months, and he is not racing the Giro. Instead, his big goal comes at his home tour, the pro race Tour of Slovenia, which is just a fortnight away. His form should be very good at this point if he aims to ride GC in that race. Therefore, in terms of the U23 scene, it is really just this race and Tour de l'Avenir that he has left to showcase his GC talent. If leaving a legacy is not an incentive to perform, then I don't know what is.
U23 Liege winner Joao Almeida had been quiet for Hagens Berman Axeon, then he finally blew up, winning Liege and taking 5th in Isard. The Portuguese climber has trade teammates the Oliveira brothers with him, who will have chances themselves, as well as providing great support. Tiago Antunes also operates as an amazing plan B, so he has no excuse when it comes to his team. Still just 19, it will be very interesting to see if Joao can go back-to-back in terms of stringing together top GC performances this early into his career as a leader on the U23 scene.
Andreas Leknessund only really started racing for Uno-X at the Isard race, but he was second on the toughest summit finish and 7th on GC. Now, on an easier parcours in terms of severity of climbs, he will be asked to do it again, where he aspires for an even higher GC finish. He may lack the punch for these climbs, but given he is still 18 and we have such a small sample size in terms of performances in this level, we will show him faith and say he can contend for a podium here.
Tiago Antunes is the highest finishing rider returning this year from last year's race, where he was 9th. An opposite to Almeida, he seems to enjoy the sharper, shorter efforts and he was very good on both the final stage here last year and a similar stage in this year's Isard. However, he cracked in Isard and Almeida was forced to take over. We are keen to see what he can do on slightly easier climbs, and the Aldro rider should aspire for the top five, which is the least his talent merits.
Leopard's Filip Maciejuk has been taking the U23 scene by storm this year, and the 19 year old winner of the Carpathian stage race is back for another win in the country close to his home in Poland. However, his big plus point is his time trialling, which he cannot use here. We still expect big things, but the lack of ITT kilometres means he is not a top favourite. In these mountains, which is his first big test in such a terrain at this level, a top ten would be very good, but he has been impressing all year, so there is not going to be much shock if he does better than that overall.
Like Paret-Peintre, Aleksandr Vlasov would also have enjoyed longer climbs here. The Gazprom rider is not built for the Ardennes stage and will need to take time on stage two to win. Given how tight that stage was last year, this is not really something we expect him to be able to do. The Toscana Terra summit finish winner will need to be in good form though, as there is a good chance he leads the national team in just over a week's time at the Giro, so we still expect a nice GC result here.
Mikkel Frolich Honore is a real joker card here. 34th overall last season suggests this maybe isn't a race for him, but he is one year older, stronger and more experienced. Denmark have an amazing team here, but no real GC card, since Gregaard Wisly has been off the pace in stage races so far this year. Mikkel has great shape, racing well all month and finally getting a deserved win at the Circuit de Wallonie on Sunday, another hilly race. If he can replicate his climbing legs from Sunday, he can win perhaps two stages and, with bonus seconds, that may keep him up there in the GC. I'd be shocked if he wins the overall, but if things go his way, a top ride in the overall is certainly doable.