With competition for spots in the biggest non-WorldTour US races being so strong, the continental US squads need to be able to offer GC riders, sprinters who can win races and attackers who can pursue jerseys, stage wins and breakaways. While the Colorado Classic is yet to reveal it's startlist, the Tour of Utah has announced the teams taking part, and among the local teams are Elevate-KHS.
James Piccoli is a great GC candidate, while Mexican Eder Frayre and Jordan Cheyne are great attackers. But it is perhaps 21-year-old Mexican Jose Alfredo Rodriguez, who goes by Alfredo, who is the real star of the team. The sprinter has been banging on the door of a big win for just over a season now, but finally became the bride when he took out a stage of the Joe Martin Stage Race.
Alfredo took some time after the Tour of the Gila to speak with U23 Cycling Zone, so readers can get to know the talented sprinter even better, ahead of his big rendezvous with the WorldTour sprinters at the end of the summer.
"I think my season has been very good, until today, which was not the best at the Redlands Bicycle Classic Yucaipa Road Race. But this is okay. This makes we want to be even more ready for the next race."
Alfredo revealed that he has some big goals, as well as some races to attend before those goals in order to ensure he finds himself in the best shape for Utah and Colorado.
"The next big races in the schedule are Tour of Utah and the Colorado Classic. To prepare for those, we will be racing North Star Grand Prix, Winston Salem GP and Tulsa Tough."
In 2017, his first year with Elevate-KHS, Alfredo was in the top ten six times in just 24 UCI race days. Amongst those top tens were a third place in Colorado and a runners-up spot in a Utah stage. Things were continuing in the same vein this season, until he finally broke his duct in Joe Martin, also securing second in the points jersey behind his own teammate. Alfredo spoke in-depth about his big triumph.
"I am very happy because Joe Martin is one of the hardest races in USA. The day of the criterium was very cold and windy, and the finishing climb really challenging. It was a great team effort to help me get the win, as well as helping my teammate Sam Bassetti get the Green Sprinters Jersey."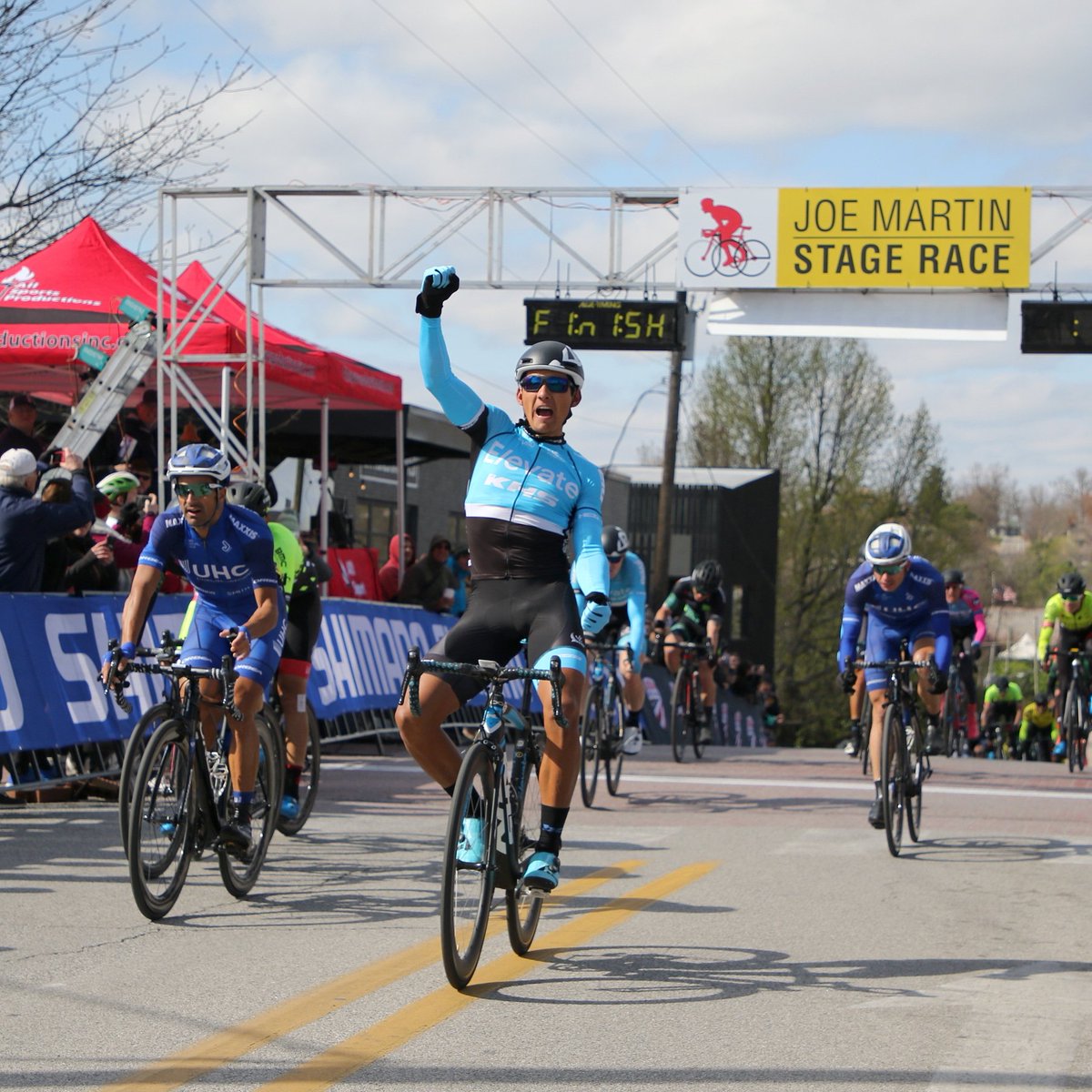 As readers will know, not all sprinters like the same stage profiles. Someone like Fernando Gaviria or Peter Sagan will like some climbs, whilst Marcel Kittel and Mark Cavendish prefer flatter parcours. So where on the sprinter spectrum does Alfredo believe he lies?
"Sometimes it depends on how the race goes. Because some days, the peloton goes so hard in the climbs and the sprinters drop on the climbs, but sometimes the group takes the climbs easy and the sprinters can finish that day in the first group and can fight for the stage. For me, it is better when the stage is flat with shorts hills."
Given he comes from another country, it was a valid question to ask Alfredo how he has adapted to life in the States, as well as how often Alfredo, who turned 21 just a few days ago, goes back home to Mexico.
"Two years ago, I was welcomed into the home of Don and Marilyn Stoner in Southern California. They are now my second parents, and thanks to them, my life in USA is very comfortable. They house several of my teammates and racing friends as well, so we have a lot of fun. During the season, I just go to my home once and stay there for two or three weeks and then return to California."
There are a host of talents coming from Mexico at the minute, spearheaded by Alfredo and Aevolo Cycling duo Fernando Islas and Luis Villalobos. Alfredo shed some light on the path to pro cycling for Mexican riders, and just how difficult that path is.
"In US, there are more professionals teams and amateur teams who have the support of many sponsors. In Mexico, we don't have as much support and a lot people want to come to the US to have a better future in cycling. I was fortunate to be on a team from El Paso, EP Cyclists, which gave me the chance to race several early season stage races in the US before Elevate-KHS signed me in the summer of 2016."
As we touched on earlier, Alfredo is hungry for success and wants to win whenever he can. However, the Mexican clearly feels he has something to prove on the biggest stage and is desperate to show his worth against the top tier opposition in the big US stage races in a few months time. That is his biggest goal.
"My goal is win a stage at a big race, Tour of Utah or Tour of Colorado. The team and I have had great success and winning my first UCI race at Joe Martin was very exciting. But having the chance to go to the line with WorldTour teams at Utah and Colorado will be a great chance for me to show what I am capable of."
Alfredo Rodriguez is a massive talent, and his success is vital to Elevate-KHS securing invitations t the big US stage races. They have provided him with a platform to showcase his speed, and all that is left now is for Alfredo to turn the podiums of last season into wins this time around. There is evidence he can win against the WorldTour, and no one doubts his talent. Alfredo Rodriguez has backed himself to make it this far all his career, and is not planning on doubting himself anytime soon.
U23 Cycling Zone wishes to thank Alfredo for taking some time to answer our questions, especially during the Redlands Bicycle Classic race. We also wish to thank Elevate-KHS press officer Joy McCulloch for helping translate Alfredo's answers. Alfredo is not a Twitter regular, but he posts a lot on his Instagram, where he can be found at @alfredo_victoria. His team can be followed on Twitter at @ElevateKHSPro.