In 2017, Harry Sweeny quickly became a key part of the squads of both the Aussie national team and Mitchelton-BikeExchange, despite it being his first season as an U23. His 2018 season has had some real highs and lows, mainly caused by bad luck, but Sweeny has been able to show exactly why he is such a highly thought of talent, capably leading Mitchelton-BikeExchange, as well as helping others in the team achieve great success.
Mitchelton-BikeExchange's Mr Do It All is an open and easy to talk to rider, and graciously allowed U23 Cycling Zone to call him last week in order to get some insight into what makes Harry tick. Unfortunately, he was coming off a bad period, where he had been hit by a car in training, before suffering a concussion in his first race back in Italy.
"I've had a real unfortunate run of late, with the car crash and minor knee damage that caused. Overall, I was unscathed, but then I crashed in Cremona in the last 15km at around 60kph. I was put in a neck brace and went to hospital, but I was OK. This is all just part of cycling."
Harry was pleased with how his 2018 started, but things have not been great since he got over to Europe, with a crash in his European debut derailing things from the get go.
"I was happy with how things went at the start, but when I got to Europe I crashed in Trofeo Piva when a rider in front of me slid out on a corner. I had a cast on my wrist for a week and then got back on the ergo trainer to get in shape. I was back for San Vendemiano, but then I had a bout of illness which the team thought was rotavirus. Hopefully, everything will just get better."
Like Harry said, things were going really well before his European stint began. He was the team leader at the Tour de Langkawi in Malaysia, and after infiltrating a break, was sitting in the top three on GC, even defending on the summit finish. But on the last day, disaster struck again. Is anyone else beginning to see why Harry bemoans his bad luck? You just have to feel for the likeable Aussie.
"I was third overall and really wanted to hold on to the podium. I surprised myself on the summit finish and went with the climbers, even when there was just eight of us left. That was actually my undoing, as I went into the red and paid for it later in the climb. On the final day, I crashed and couldn't get a bike change and lost my podium. However, it was my first race as a leader and I still have a lot more to learn."
At this juncture, we must point out, Harry was still 10th on GC in a 2.HC ranked race against WorldTour riders. Despite his bad luck, this was an extremely impressive result, one which has prompted Harry to describe himself as a good at different aspects of cycling, depending on where we are in the season. Given his past results, a jack of all trades seems to best describe the 19-year-old.
"The type of rider I am really depends on where we are in the season. I think I can be a reall all-rounder. My options are open heading into my next races at Roubaix and Baby Giro. Roubaix is a race I'm really looking forward to, but my issues have set me back. It will be hard to get a result due to the lack of racing and more ergo sessions, and the Giro is hard as these two goals of mine require a two-to-three kilo weight difference and much longer efforts, as well as punchiness. However, I am optimistic, as doing a result in both events is actually possible in the U23s. Even if I cannot get a result at the Giro, it is a huge goal for the team."
Harry spent last year as a dometique, and he was brilliant at it, being part of wins in GP del Marmo and Toscana Terra di Ciclismo, as well as helping two of his captains podium the Baby Giro. Harry talked about his passion for helping his teammates out, and it is this passion that makes him such a great rider, as he is so selfless and a great guy.
"I'm passionate about working for the team. I always give 100% and each win or podium is special to me. I come from a TT background, so riding for others is something I do enjoy. It is so special to lead the team, but it is strange to ask guys to fetch me bottles or ride on the front. It is hard to ask someone to do a job id normally do. I personally believe being a domestique makes you a more humble leader."
While least year saw the team have several stars, this year's roster was more about introducing new talents like Callum Scotson and Bryan Chaves, and asking riders like Harry, Sam Jenner and Robert Stannard to step up. The trio have really done that, but Stannard has been a freak of natures, securing results in almost every race he has done, resulting in the squad's WorldTour team signing him up already. Harry talked a little about Rob.
"I've known him a while as raced together as juniors. He can win from a lot of scenarios and you can attack freely knowing he is sitting behind and can capably finish things off."
Harry admitted that after the Baby Giro, he is unsure of where he will race next. He has a midseason break before returning for some stage races (subject to his team's application to race being accepted) and hopes to ride the Worlds and Tour de l'Avenir with the national team.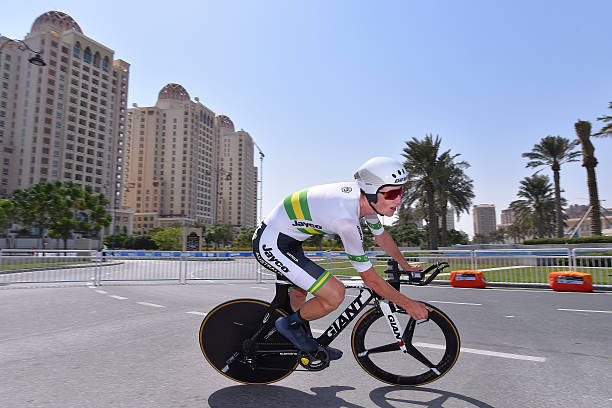 Harry had some interesting views on Australians making it as pros across in Europe, especially since it is something he has been preparing for for a while, after spending time in Belgium as a junior.
"At the moment there are a few pathways, with the NRS structure change. There are a few guys who have gone pro in the past from Avanti, or Bennelong-SwissWellness as they are now know. However, over the past decade, most riders go to Europe, as they need to learn how things work. There is a real shock when you first get to Europe at just how deep the talent pool is. However, a rider like Ben O'Connor proves this is not the only applicable method. It really is up to the rider and their mentality, that will determine the choice they make."
Given Harry has been in Europe for a while, it is fair to say he has really grown up well away from the comforts of his home in Australia. He was more than willing to talk about life growing up in Europe and the difficulties, if any, that have arisen in his years here.
"I haven't had it too tough, but I have heard some brutal stories from other guys about adapting to European life. I was so fortunate to race in Belgium as a junior, which was an invaluable experience. It really helped with the step up and all other aspects of my racing, as well as outside of it too. My parents made me very independent, so things like cooking were never a problem for me, adapting to Europe for me was all just down to getting on my bike."
Despite his abilities as a climber, Harry's stint in Europe as a junior in Belgium has clearly had a profound impact on the races he enjoys most. He was clearly disappointed his bad luck has left him behind where he hoped to be going into U23 Paris-Roubaix, but it is another cobbled race that captures his heart the most.
"For me it's Flanders. Roubaix could suit me but the guys who win Flanders can corner, ride the flats, climb, handle the cobbles. That is just special. De Ronde was special to ride and it also looks amazing when you see it on TV. Riding the pro race is something I'd really love to do."
Harry is a great rider who has limitless potential in a lot of different races, he just has to shake the bad luck that has wrecked his season so far. On top of that, he is the type of rider who would kick your head in during a race and then grab a beer with you after, which is a statement that cannot be said for so many riders. Ultimately, Harry Sweeny is one of the good guys in the sport, and you always want good guys to win.
U23 Cycling Zone would like to thank Harry for accepting our phone call, especially just a few days before he raced GP Criquelion in Belgium. We also with to thank Mitchelton-BikeExchange press officer Tim Lindley for coordinating the interview. If, like us, you are a huge fan of Harry's, you can follow him on Twitter at @harry_sweeny.