Pre-race in Motherwell, U23 Cycling Zone caught up with two of the favourites for the second round of the Tour Series in Motherwell, Charlie Tanfield of Canyon-Eisberg and Matt Gibson of JLT-Condor, to get their thoughts on the race, and other issues. Both riders have had success this year, and are comfortably among the best U23s Great Britain has to offer at the moment.
Charlie, whose elder brother Harry recently won a stage at the Tour de Yorkshire, splits his time between the track and the road. Now that he is back off the boards, the 21 year old is aiming to find his consistency on the road, as he told U23 Cycling Zone.
"I'm just looking to keep consistently performing for the team and do my job. I've got the European Championships later on in the year, so I need to make sure I'm ready for that. That will be important for qualification for the Olympics, so it's important I arrive in good shape. Then I've got the Worlds, so we will see where I am after that."
8th in the Commonwealth Games ITT, Charlie is hoping he can emulate his older brother by scoring that huge win on the road.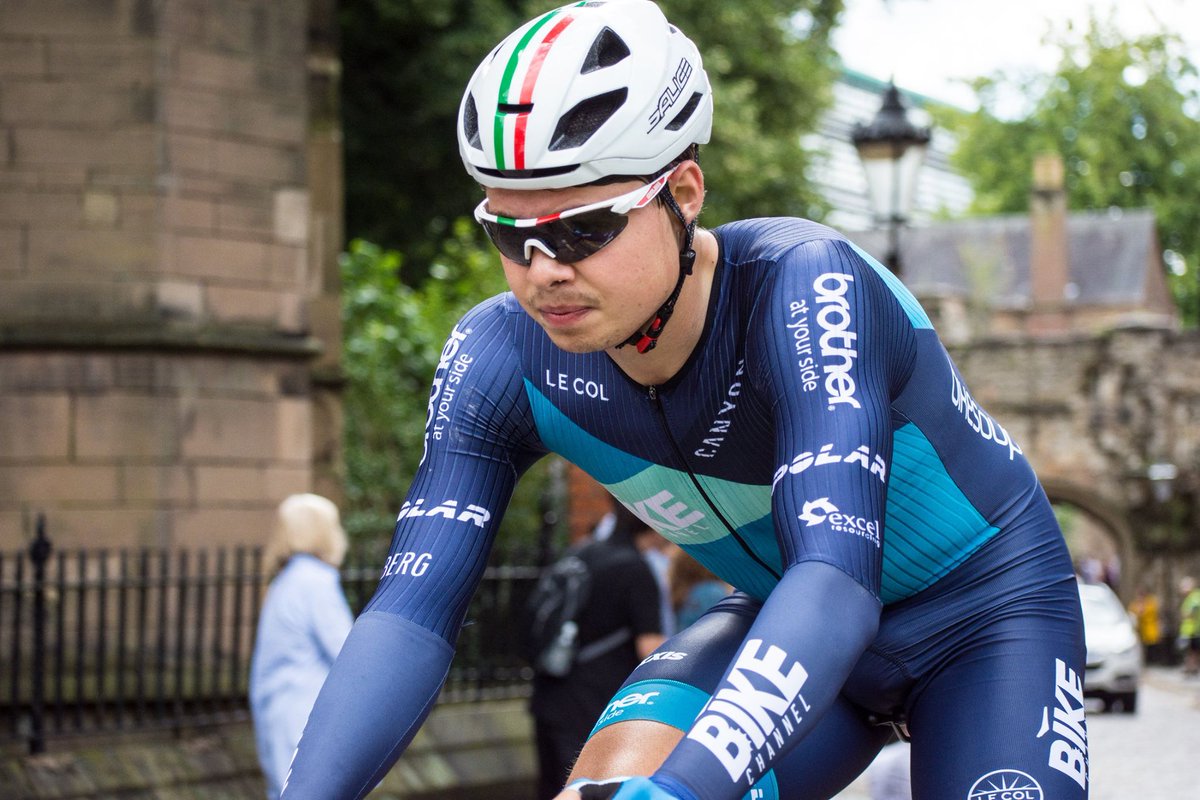 "I hope the win is coming. I've been really enjoying my racing recently, so we'll see. I'm motivated."
Finally, Charlie spoke about his strengths on the road, where he says the time trial is his best discipline at this present moment.
"I'd probably say time trilling. I like grippy courses. That's my strength at the minute."
Gibson has had one hell of a season so far, with the JLT-Condor star featuring prominentely on the international scene, racking up plenty of podium spots, as well as securing stage wins in the New Zealand Cycle Classic, Tour de Loir e Cher and the Tour de Normandie, where he was also 10th overall.
Matt spoke to U23 Cycling Zone first of all about his team's ambitions for the Tour Series.
"We really want to keep up our ambitions for the overall for the team. We want to maintain, if not add to that lead that we've already got. Obviously, the individual round comes after that, but the team is more important."
Gibson then followed on by talking about his upcoming racing schedule, where he will race in Aberdeen next.
Given JLT-Condor are an institution in British racing, it is very likely they will be at the Tour of Britain in September. Given Matt's form, he has a great shot at making the team. So does he fancy a go at sprinting against the best the WorldTour has to offer?
"I'd love to race there and test myself against the big guys. I don't know what WorldTour guys are racing there yet, but I'd love to have a go and see how I compare."
Despite the race being all about the team, Matt escaped with Richard Handley of Madison Genesis and Charlie' brother and teammate Harry, with the trio working well together all the way to the end. Despite Harry's form, it was Matt who used his sprinting prowess to reach the line first ahead of Handley, with Harry in third.
It was a mixed bag for Gibson though, as Handley's teammate Johnny McEvoy secured fourth on the day, meaning their team beat Matt's for the overall. Matt has the small consolation of leading the sprints competition into Thursday's race though. After he had finished TV duties, he sat down for a few minutes to talk U23 Cycling Zone through his big night in Scotland.
"We ended up losing the team competition tonight, which is a shame, but winning the individual race and the individual points classification is a bit of a consolation. The overall team classification is what we were going for at the end of the day, but it is nice to win."
Despite his notoriety as a top sprinter, Matt wasn't as confident as you may think he would be, admitting his sprint put a little extra pressure on his shoulders.
"I only knew I had the win at about a lap to go. I couldn't see anyone getting away and I knew on paper I had the best sprint. That put pressure on myself, knowing that I should be able to get the sprint, which I was confident with, although I knew Harry was going to make it hard and I wasn't sure what Rich was going to do."
But at the end of the day, Matt continues his winning streak, and his confidence continues to grow, as he is sure to be on the top team's radars, given how valuable a rider with Matt's sprint is in this era of cycling.
"It gives me more confidence, especially going into this next block of races, especially the Tour Series, knowing I've got the legs to hopefully claim back this overall team prize."
Matt said he thinks his next international race will be over in Canada, but that is subject to confirmation. It really says a lot about the 21 year old that despite his success and WorldTour talent, he really means it when he says the team comes first. JLT-Condor have a great record in the Tour Series, and with a rider like Matt Gibson on the roster, they have a legitimate shot at taking back their crown.