Alessandro Fedeli is one of the most interesting riders on the Italian scene. Despite not specialising in one aspect of the sport, the Trevigiani Phonix rider has managed three wins in the last 12 months, including two wins at GP Liberazione and Trofeo Edil C.
Alessandro was willing to take some time to answer some questions from U23 Cycling Zone, giving an insight into his life and his aspirations for the future, as well as revealing a surprise with regards to his situation for next season.
"The first part of the season was complicated and intense, because of an operation on my nasal septum, which allowed me only to get on a bike after the Christmas holidays. I did great workouts at the training camp in Calpe and in Benidorm with a great professional like Mauro Finetto (Delko Marseille Provence). I started the race season in Colombia Oro y Paz and I used this stage race to continue my preparation."
Following his season start, Fedeli managed a top ten in a stage in Coppi e Bartli and was 17th in GP Izola. The Italian then headed into an important part of his season, with the multiple Italian one-day events. These races suit various kinds of riders, but Alessandro, at 22, still has no clue what type of rider he is at the moment.
"I don't know who I am, my limits and my favorite types of route. I think that my first real weakness is my mind and I'm working so hard to remove the weakness."
After showing his form with 7th in Palio del Recioto, he won Trofeo Edil C and less than three weeks later he was at it again in Liberazione. His success started a real purple patch for his team, and he is so irreplaceable to his team. Alessandro took us through the wins, which were taken in differing circumstances.
"I won Trofeo Edil C with two attacks, the first on a climb which made the final selection of the best riders, and the second in the last 2 km to arrive solo. GP Liberazione was just great team work. I did the last four laps alone with the group behind me at 30 seconds. I don't have a favorite win, they are two races of primary importance for the team and I. Obviously, GP Liberazione gave me more notoriety thanks to the continuous views on national TV."
Alessandro moved in the offseason from Colpack to Trevigiani Phonix Hemus 1896, and he said the team was simply the perfect choice for the rider, who was in demand after scoring a solo win in the Giro Valle d'Aosta, as well as taking a few more top results in the Italian U23 races.
"I chose Trevigiani Phonix Hemus 1896 as it was the perfect organisation for me, which I knew already because I was a stagiaire in 2016 with this team, and the quality of the racing calendar."
As he mentioned, Fedeli was a stagiaire with the team in 2016, but did not sign with them, which he says is a decision that has worked out so well for him, as he has returned to the team a better rider who could lead them in the biggest races.
"I think I made the right choice when I decided to do a whole season in a Continental team like Trevigiani Phonix Hemus 1896 only at my last season as an U23, because it is not easy to keep certain rhythms if you are not ready. Now, I've grown up and I am ready to make a great season in both U23 and professional races. In 2016, when I was a stagiaire, I made a great performance in Czech Tour, with a fourth place, an eighth place and a ninth place in stages; but I saw the level and I realised that physically I was not ready yet."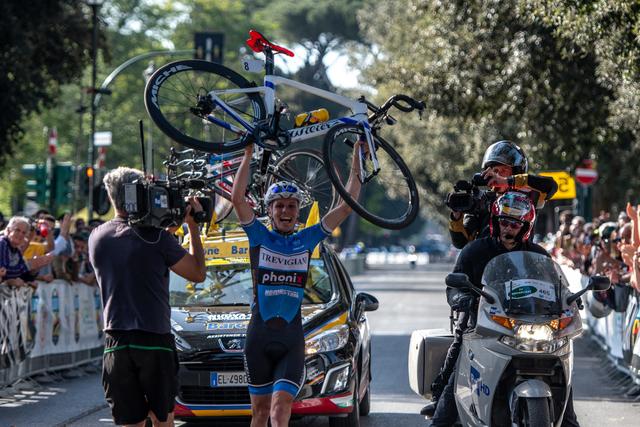 Alessandro admitted to feeling pressure to find a pro deal, and says he has not been approached by anyone yet, which leaves him bitter as he has had a great start to the season. He just hopes someone will take a chance on him and offer him what would be a deserved pro contract.
"Unfortunately, I feel this need to find a pro contract for 2019 and this anxiety has negatively affected my performances. My consistency in the results to date has not been rewarded and this makes me bitter. I hope that this wait will serve to find a space in a big team because I think I still have a lot to show."
Speaking of his goals for the rest of the year, Alessandro is targeting the remaining U23 races on his program, as well as any race the Italian national team selects him for. Additionally, the Baby Giro will be a massive goal next month for the 22-year-old.
"My goals for the rest of the year are the races of the Nations Cup with the national team, as well as continuing to be protagonist at every race of the U23 calendar and the most important race of all, World Championships."
As an Italian, Alessandro knew exactly which pro race he wants to win: La Classicisima.
"The pro race that I would like most to win is Milano–Sanremo."
Alessandro Fedeli is a great rider and we really hope he gets the pro contract he deserves at the end of this season. We wish to thank the Italian for taking time out of his schedule to answer our questions, and team press officer Giulia de Maio for setting the interview up.