Back in January, we called Mikkel Frolich Honore one of the most versatile riders in the U23 peloton, and we have been desperate to feature the Dane on our site. Finally, the Virtu Cycling rider was available for interview, and we jumped at the chance to have him. So we called Mikkel after the opening day of the Tour du Loir et Cher e Provost to ask him some questions so readers can get to know one of the biggest talents in the sport.
Firstly, we owed Mikkel an apology, as we picked him a winner candidate for last week's Ronde van Vlaanderen Beloften, and he wound up suffering a crash, whilst fellow rival Jasper Philipsen punctured. It appeared we cursed Mikkel and Jasper. However, Mikkel didn't seem to angry about this and was happy to talk us through the race as part of our exclusive interview.
"I was very motivated for Flanders after finishing 8th last season, especially as I felt a lot stronger this year and hoped for a hard race. However, as a team, we had a lot f bad luck with mechanicals, punctures and crashes. After the Kwaremont-Paterberg, we still had a long way to go with just me and Andreas Stokbro (who would finish 5th, ed.) in the peloton. Things could have been different if we had more numbers, but the Aussies road a brilliant race. I attacked on the Achteberg, just before we entered the circuit, but the Aussies were on it straight away. I could do nothing. In the sprint, I had a crash. It's disappointing but I look at it positively, as at least I was OK and didn't break anything."
The crash has been the only real blip in Mikkel's season, as the 21-year-old scored 4th on GC in the Istrian Spring Trophy and 5th in Gent-Wevelgem. He spoke a little more about his season in general with us.
"I really tried to hit the ground running with my new team. Although I wasn't in top shape in Croatia like I am now, I was really surprised with the result, as was my coach, who is also my DS. My main focus was Liege-Bastogne-Liege Espoirs, but sadly Team Virtu didn't have enough riders to take part. Therefore, I am here at Loir e Cher instead. I am here to put something in the bank with my teamamtes. We have last year's winner Alexander Kamp (himself a very, very good former U23, ed.) who has a great chance to repeat his win from last year given his current his form, if he has luck on his side. With regards to missing Liege, I do not lose any energy over something I cannot control. So far, I haven't had the perfect win as an U23, but I feel really good. Wins as an U23 are not always required to be a good pro, I think Gianni Moscon is a great example of that. I always want to win, but for my type of rider, this is not easy. You can almost say I am in a small crisis and I need to find something to be a real specialist in, but for now me and my coach are working on everything rather than one specific area."
We once heard Michal Kwiatkowski being described as a jack of all trades, but master of none, as he is so good at so many things and has no speciality. We would describe the super talented Mikkel in the same way. As well as the results we have already mentioned in this article, last season Mikkel was 8th in Liege and 10th in Lombardy. In stage races, he managed 11th in the Tour of Brittany and 12th in the Baby Giro. This is a simply ridiculous variety of results and this is why we say he reminds us of Kwiato. We spoke a little more to him about being versatile.
"I'm honoured to be compared similarly to Kwiatkowski, he is one of my favourite riders. To be honest, I think U23 and WorldTour races are different. At the moment, I thin my skillset could be good for the Monuments, especially Milan-Sanremo and Flanders and a beautiful young Classic like Strade Bianche. I don't think I have the ability to be a Grand Tour guy, but perhaps stage races like Tirreno and Paris-Nice could be for me."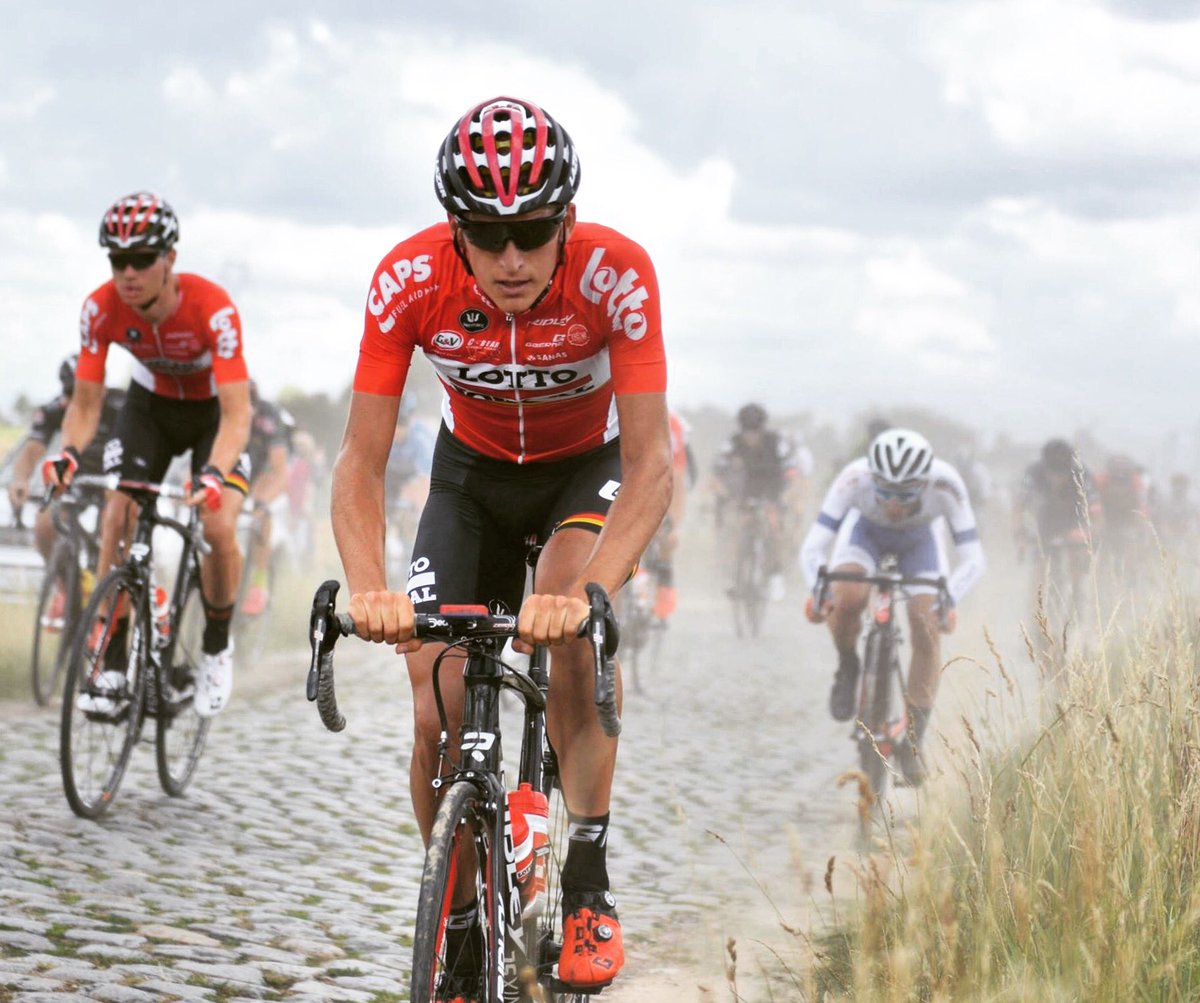 Having previously mentioned the fact he changed teams this past winter, we asked Mikkel why he moved from Lotto-Soudal U23 to the Danish Continental squad.
"My overall reason was that I believed that I could progress better with Virtu. I have nothing bad to say about Lotto-Soudal U23, if I am honest, I think if I stayed there I could have progressed too, but I think I can do more here. Plus, I know a few of the guys on the team already and when (former pro) Michael Skelde approached me and had a chat about joining the team, I couldn't say no. here, we have a good mix of pro and U23 races, which I think is great for my development. If I, for example, joined a Pro Conti team, id do only pro races, which I think would be bad for me at this stage in my career. I am not stressed about going to the WorldTour, I am more focused on becoming the best rider I can be. If I am honest, I feel ready to go pro now, whether that comes at the end of this season or next year."
Once he has finished Loir e Cher, Mikkel, who is a very mature and likeable rider, spoke a little about his goals left this season. Pro Cycling Stats has him racing Rhone-Alpes Isere Tour, Tour of Norway, Circuit de Wallonie, the Peace Race and Giro Valle d'Aosta. He talked a little bit about his upcoming races and goals.
"After Loir e Cher, I will take a break before coming to Rhone-Alpes. I want to do well there, but I am not sure how well I will be going condition-wise after the break. I need to wait and see, but I hope for a high level. At the Peace Race, I need to see if I can find my climbing legs and go for GC, otherwise I will target stages. At Valle d'Aosta, I think that race is too hard for me overall, so I will for sure hunt stages and start to prepare for the Worlds. Another race I can try for a win in is Eschborn Frankfurt U23. The race doesn't suit me perfectly but there is a short, steep climb in the middle. Two years ago, I was in a group of eight that got clear, but the sprinter's teams got together and caught us with one local lap to go."
The Worlds was something we were very keen to discuss with Mikkel. After seeing Vincenzo Nibali's comments about the pro race, we think Mikkel can be a big contender in the Worlds in September in Innsbruck.
"The pro course is hard and is more suited to pro climbers. The race can be different in the U23 ranks, as we don't have the steep climb at the end. There are also, as you have seen, some big guys who handle the climbs well in the U23s and can maybe hold on, unlike in the pros. However, the race will still be very hard and there is a lot of altitude, so it is still a goal. At the moment, I don't really know my program for August and September, but the Worlds is a target for now."
Mikkel breezed through the interview with no problems, until we got to the final question: which pro race he wanted to win and why. To be honest, for a rider as versatile as Mikkel, that is hardly surprising, and it showcases just how talented he is that he can see himself doing well in so many terrains.
"I'll say Milan-Sanremo. I'd also love to win Flanders, but at the moment, I have to say I have a better shot in Sanremo given the type of rider I am. Liege is also nice, maybe I should have said that!" Mikkel laughed. "My favourite TV race is Flanders. Mads Pedersen is my friend and it was crazy to watch him take second in Flanders, just a few years ago we were riding the U23 race as teammates. I was out of my chair cheering for him. Actually, after thinking about Mads there, and since we just rode the U23 race, I want to change my answer to Flanders!" Mikkel eventually concluded, ending the interview on a cheery and humorous note.
Here at U23 Cycling Zone, we have the privelge of interviewing a lot of talented young riders, many of whom we hope will become the stars of tomorrow. But we have not yet met a rider who goes over cobbles and hills, as well as possessing a sprint and TT like Mikkel Frolich Honore does. He is primed for success and is going to be on a lot of team's radars. If he goes pro, which he will at some point, at the end of the season, then we will be happy for him. If he comes back for one more U23 race, we will also be excited, as he has the ability to light up any race he rides, he is just that good. Michael Valgren, Magnus Cort, his good friend Mads, Casper Pedersen, Niklas Eg, ex-teammate Kasper Asgreen. All are Danes who have gone pro recently and made their mark on cycling. Mikkel is just as good if not better than all of those riders. We can't wait to watch him succeed, so make sure you remember the name: Mikkel F. Honore.
U23 Cycling Zone wishes to thank Mikkel for taking part in this interview, especially in the middle of the race, and for being so friendly and a strong supporter of our site. Additionally, he took part despite the loss of his friend Michael Goolaerts, who was his teammate in 2016 at Lotto's U23 team, which we again thank him for in this hard time. We promise to not put him as a favourite in in our previews for any race he is targeting, so we do not curse him again like we did in Flanders. Most importantly, we wish one of cycling's good guys all the luck in the world for his upcoming races and for the rest of the season. You can connect with Mikkel on Twitter at @MikkelHonore and can follow his team at @VirtuCycling.