Following a strong season for Russian cycling at the U23 level, a lot of their talented riders have progressed on to the next level with the Gazprom-Rusvelo team. However, the Russian Pro Continental squad, who have a development team in the same name, has Petr Rikunov to rely on for 2018. The Russian is hanging around for another season at this age level and is hoping to secure a pro contract by the end of this year.
Petr, who turns 21 next month, spent some time talking with U23 Cycling Zone about his aspirations for the coming season. We also reminisced about a strong 2017 campaign that saw him narrowly miss the podium at the European Championships U23 Road Race.
"The first part of the season wasn't really good, I had some issues in my preparation and I was sick a lot. Then, I changed my coach, his training methods were better for me and I felt stronger on the bike. I'm really happy that I won my national championships in both the Road Race and the Time Trial. But my 4th place at the European Championships is also a big achievement for me."
Rikunov, who speaks very good English, spoke of how he first got into the sport at the request of a friend and how he immediately knew this was the career for him.
"I started cycling at 12 years old, after a friend of mine asked me to join him for a training ride and I immediately enjoyed this sport and quit football to ride my bike."
Despite the strong ride at the European Champs in Denmark coming on a flat course, Rikunov says his biggest strengths lie in the hills and on the TT bike. Perhaps the next Ilnur Zakarin in the making?
"I think the races that suit me the best are the hilly classics, although I'm good in time trials as well."
After referencing his ride in Denmark a few times throughout the interview, Petr vividly described exactly what went on that day, where his pure racing instinct allowed him to constantly remain in front of the peloton.
"It was a really good result for me, it was a crazy race. Everybody wanted to be in the breakaway so attacks almost never stopped until a 15-man group went away and the peloton couldn't catch it, and at that moment I understood that this group had a chance to go to the finish and I attacked with Marc Hirschi and Jasper Philipsen and we could join the front group pretty fast. With 30km to go, Casper Pedersen made a move and I followed him with Benoit Cosnefroy and Hirschi again. That was the winning move, at the finish I started my sprint too early and finished 4rd. Anyway, I'm happy with this result."
In addition to his European Champs ride, Petr doubled up at the Russian U23 Nationals, meaning he wears his national champions jersey in every race he rides until July. He spoke of the honour and motivation his new jersey brings him.
"It is an honour to wear the national colours in the biggest U23 races, it provides extra motivation to do a good result every time I race."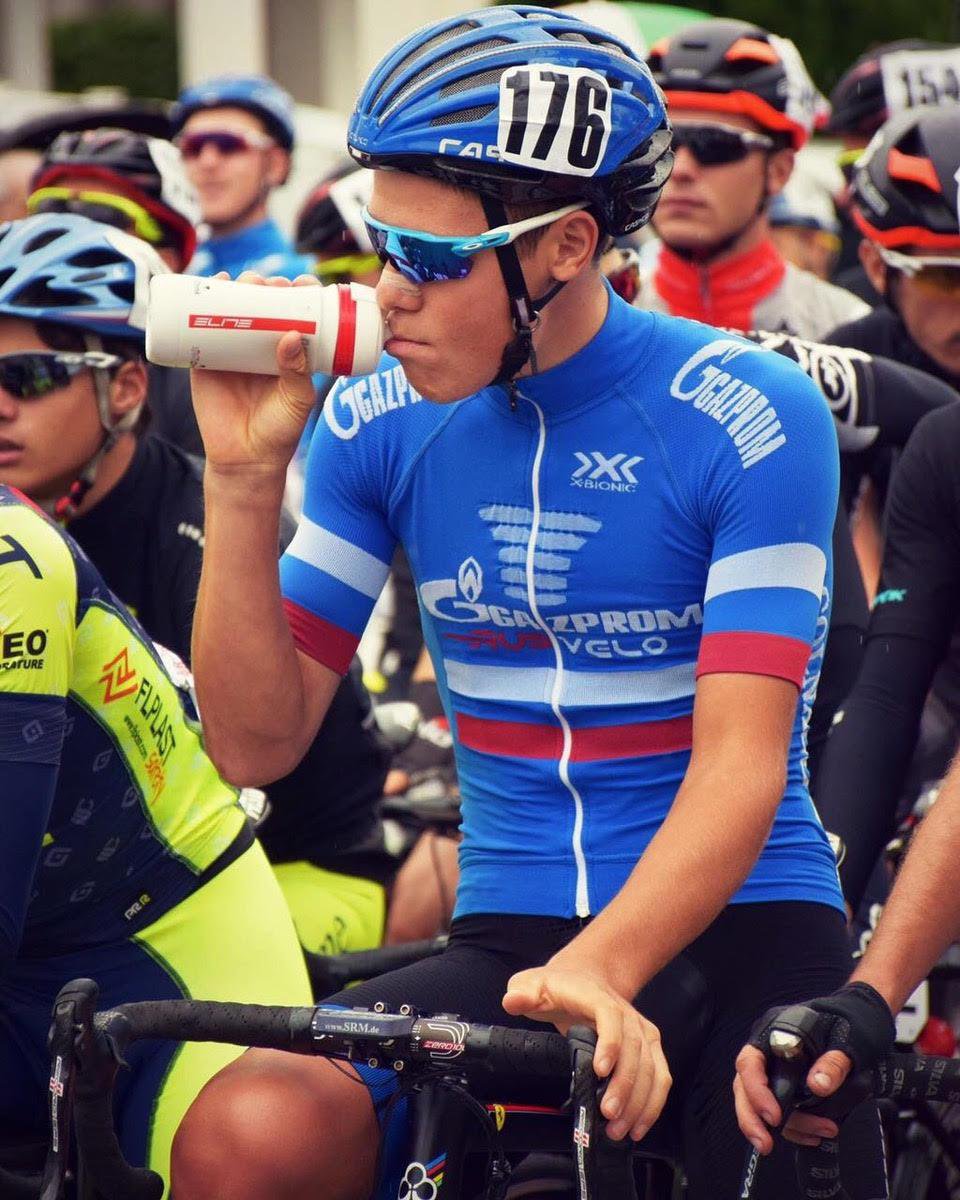 After seeing his Gazprom U23 teammates Nicolay Cherkasov, Stepan Kuryanov and Evgeny Kobernyak move up to the elite team this winter, Rikunov insists he wishes to make the same move to the pros this coming offseason. However, he knows that will come with results and he has his eyes firmly set on racing well in 2018.
"My goals are to progress in term of results, to show regular good results that could give me a chance to make it to the professional ranks."
Gazprom's U23 team has a very Italian calendar, so Rikunov will want to make it into the team for all of the hilly classics and U23 Giro which Gazprom raced last year. He also wants to be selected by his country for the big Nations Cup events. All in all, he believes selection for both team and country will provide him enough of a platform to show himself to pro teams and chase strong results.
"At the moment I'm still not sure about my race calendar. I really hope to ride all the spring Nation Cups like Tour of Flanders and Gent-Wevelgem. And, of course, the Tour de l'Avenir. To finish the season at Piccola Lombardia would be a good one for me."
Following his European Champs result, Rikunov says his dream win as a pro would come at another race where he would be racing in the national jersey of Russia:
"The win of my dreams would be the Worlds Championships, as for me it's one of the biggest achievements in cycling."
U23 Cycling Zone wishes to thank Petr for taking part in this interview and we wish him all the best for the coming season and his dreams of going pro. You can follow Petr on Twitter at @97Rik2.