With his title defence in the U23 Australian Road Race Championships upon him, Sam Jenner took some time out of a very busy schedule during the Australian Summer, which is packed from pillar to post with races, to talk to U23 Cycling Zone exclusively. We discussed all things Sam, from his European goals and Aussie race goals, to handling pressure and his aspirations for the future.
When we caught up with the Mitchelton-BikeExchange rider, he had been training for a while after a short offseason break, as he has his first big goal of 2018 in January, being his U23 RR title defence and aiming for selection for the UniSA composite team for the Tour Down Under. First though, we reviewed the season that had just concluded.
"The 2017 season has been a long but very much fulfilling season for me. The year gave me an opportunity to experience a wide range of racing styles and lead to a large learning experience. Although, It started off flying with the win in the National Title in the beginning of the year, I didn't really achieve the results I wanted personally. But being a part of the Mitchelton-BikeExchange team we achieved some unreal results and I can only think of a few races where we weren't represented on the podium. I think overall, 2017 was a great year and was only made possible by the Mitchelton-BikeExchange riders, team and sponsors putting in together 100% for a common goal."
With January being such an important month for Australian riders, we asked Sam what his goals for the big national race in the opening two months of the year were. As of this morning, Sam got his Nationals off to a flying start by taking second in the U23 TT, behind teammate and now three-time winner Calum Scotson
"With the Australian summer being such a big time of the year for us, it's all hands on deck at the moment and a bit of a stressful period. My goals for this upcoming summer is first of all trying to defend my national title. Although this year there will be more of a target on my back, I think I've got a few tactics up my sleeve that will give me an advantage over the other riders. Another couple of races during this Summer block are Tour Down Under, Cadels Road Race & Sun Tour. Last year I was fortunate enough to compete in most of these and as a part of the UNISA team, I took out the teams classification Down Under. The Sun Tour, Cadel's Road race & Down Under are a chance to really showcase yourself in front of a home crowd, especially with the limited chances we get to race in Australia. If I'm unable to race these events, I'll be really concentrating on building a good base for the European season and hopefully hit the ground running and bag a few results early in the year."
Given we were on the topic of the Aussie summer events, we asked Sam to take us through his RR win last year and what the result meant to the 20 year old from New South Wales.
"It was really a result that saved my 2017 season. I went into nationals with no real plans for the 2017 season and that made the lead up to Nationals a really nervous and anxious time. Going into the race without a contract meant I just had to put all my eggs in one basket and had nothing to lose. A lot went into that, with training during the lead into the race and with the mentality that a good performance could secure a contract definitely gave me that extra push in the closing km's. The win was overwhelming and a huge relief for me, plus it gave me the contract I was chasing for."
For some European national champions, the sense of wearing the national jersey is a little big lost for them as racing in Europe is something they have done all of their lives. But for riders from other continents, there always seems to be more pride in wearing their national colours in Europe. We asked Jenner how it felt to wear the green, white and gold jersey in races like Tour de l'Avenir, U23 Giro d'Italia and many more historic U23 events.
"Wearing the National Championship colours has been unreal and an experience I wish everyone could enjoy in their cycling careers. Although it seems like you have an automatic target on your back, you can never get over the feeling of putting on the green and gold stripes before each race and also the extra respect you receive within the peloton and cycling community. Now that I start to realise that it could be the last few times I'm able to wear the colours, I get more and more eager to defend it."
Jenner had a long 2017, racing from January through to November. We asked him how such a short offseason will affect him in 2018, especially since he plans to be on top form already in January and February for his big national races.
"It has been a long season and because our national championships are in Janurary, there isn't much of a turn around. I was able to get adequate recovery time in during the month of October then started back with the Tour of Hainan and Tour of Fuzhou back to back in November. Although this was tough on the body because of the lack of training, it was the ideal way to get back into it and really gave me a two week block of just high intensity racing. I also believe that with the 90 race days I've had during the 2017 season there's a large base there and even though I spent 3 weeks basically off the bike it didn't take long to gain some fitness back."
From March onwards, the racing is concentrated to Europe, although Mitchelton-Scott do race a lot in Asia between September and November. Sam relayed his goals, for once he gets across to Europe, to us.
"I still haven't fully cemented my goals for the year but I've got a few races that I'd like to target and base my season around. Obviously, with how hotly contested the U23 races are nowadays, you have to be smart with how you base your season so you are peaking at the right time. I'm hoping to achieve my goals that I'm going to set out so I can then move forwards as well, like the boys have done this year. Last year I didn't really have any goals after nationals so there were no peaks with in my season and that meant I ended up just flat lining through the year without any outstanding performances. Also, having three of the strongest riders in the races as my teammates meant that I provided a domestique role, where I gave 100% and ensured I did everything possible to put the guys into a winning position. I think I learned so much during the season and can really capitalize on that for the 2018 season. I'm really grateful for the opportunity that Mitchelton-BikeExchange family (including riders, staff and sponsors) have provided for me over the past years and I am really looking forward to another year with the team."
As Sam mentioned, Mitchelton-BikeExchange had a dream season in 2017, winning races like Tour of Alsace, GP del Marmo and Tour of Fuzhou. However, they placed riders on the podiums of the U23 Giro, U23 Liege-Bastogne-Liege and Giro Valle d'Aosta. However, three of the men who were largely responsible for those results in 2017 (Lucas Hamilton, Jai Hindley and Michael Storer) have all gone pro for 2018. Does Sam feel extra pressure to step up and try and fill the success void left by his compatriots?
"Seeing Lucas, Jai and Michael move through the ranks into the WorldTour was great to see as I've ridden with them for a couple of years now and although I'm sure they'd achieved as much success without me, I'll always jokingly claim I gave them a hand on the way. But with them moving forward it has opened up some great opportunities for me, which I'm excited to take with both hands. Being able to see and learn how those guys win or lose a race means that I was able to learn lessons without it costing me much at the end of the day. Of course, there will be extra pressure on me next year but I think that the most pressure will be coming from myself, as I want to win races and really pay back the team for the amount of belief they've given me over the years."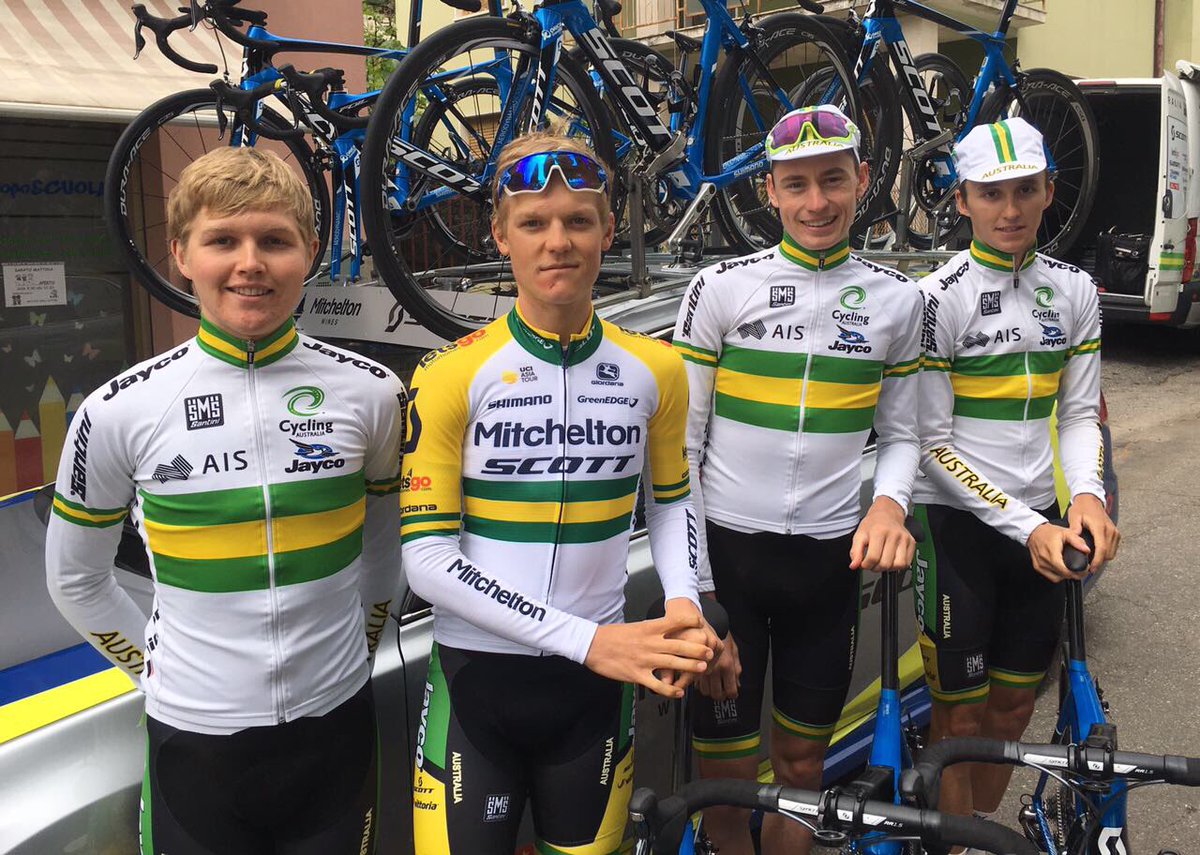 Finally, to conclude our interview, Sam answered the standard U23 Cycling Zone interview question: if you could win one pro race, which one would it be and why?
"That's always a hard question to answer because of how every race has its own interesting challenges and terrain. One race that I've always wanted to win from a young age is the Giro d'Italia, although Liege-Bastonge-Liege is closely follows the Giro for similar reasons. This is because of how brutal the race is each and every year, plus the challenges and obstacles that the GC contenders have to face and conquer to win. Only the strongest and most resilient riders are able to win the Giro and I have a large respect for those guys."
Sam Jenner is a man with a target on his back come January, and he has extra pressure on his shoulder to succeed this season. However, Sam is clearly up for the fight and has full belief in his ability to excel in all terrains this season. U23 Cycling Zone would like to thank Sam for taking part in this interview and giving up valuable time during a key part of his season, and we wish him all the best this season, starting with his title defence tomorrow. We also wish to thank Mitchelton-BikeExchange press officers Taryn Kirby and Tim Lindley for helping put this together and conquering the time zone issue between Australia and the UK. You can keep up to date with Sam via his Twitter account, where you can follow him at @SJenner0.