Despite being an Italian team, Team Unieuro Trevigiani-Hemus 1896 has a wide range of riders, including Bulgarians, Frenchmen, Colombians and Spaniards as well as Italians on their 2018 roster so far. However, arguably the rider who comes from furthest away is Zahiri Abderrahim, the current U23 road race champion of Morocco.
Following a great first season at the U23 level, Moroccan Zahiri took some time during his offseason to take part in an exclusive interview with U23 Cycling Zone, where we discussed his strong 2017 season, as well as the challenges moving abroad to race, as well as what the differences are between races at home in Africa and his new challenges racing in Europe.
"I am so delighted with the season of 2017 because I gained a professional experience in all of the races that I participated in.  Also, with the support of my team, I became more confident to compete in every race."
Indeed, Abderrahim had a great first season in Europe, as the 21-year-old scored some big results. His only win came in his national road race, but he managed some nice results in some African one-day races and ninth overall in the Turkish stage race Tour of Ankara, as well as scoring big in Italy. Zahiri was 15th overall in the U23 Giro d'Italia, was up there with the best in six of the U23 one-day races and was in the top thirty at the Giro dell'Appenino, a pro race won by Danilo Celano.
Zahiri spoke about the main differences he has noticed between his year racing in Italy and his prior knowledge of African racing, particularly in his home country of Morocco.
"Regarding all the races that I had in Europe and Africa I would strongly say that there are some differences and they are as follow: first, the level in Europe is much higher than Africa because of professional riders. Second, in Europe I have all the possibilities to increase my level and become a good champion because in my European team, I am well satisfied."
Some riders really struggle when they have to move abroad to race and Zahiri may have felt out of place on the team, being the only African and the only French speaker. However, eh said prior experience of being abroad really helped him, and he was able to adjust just fine to his new home in Italy.
"Concerning the lifestyle in Italy, this was not difficult because I had visited many European countries before I moved to Italy, therefore, I am well integrated among Italian culture. I must also say that I am so happy with my team.  Additionally, for me, racing in Europe was equally very challenging and inspiring."
As mentioned, earlier, Zahiri Abderrahim had a more than decent first year as an U23 rider, but despite winning his national U23 road race title, there was another result that really stands out as showing his potential.
"At the U23 Giro d'Italia, I ended 15th in GC. The race was full of strong professional riders who came from many countries, and this race was just my beginning to empower my skills and compose myself all over again for next races. Also, this race really strengthened my confidence to get higher places at big cycling races in the future."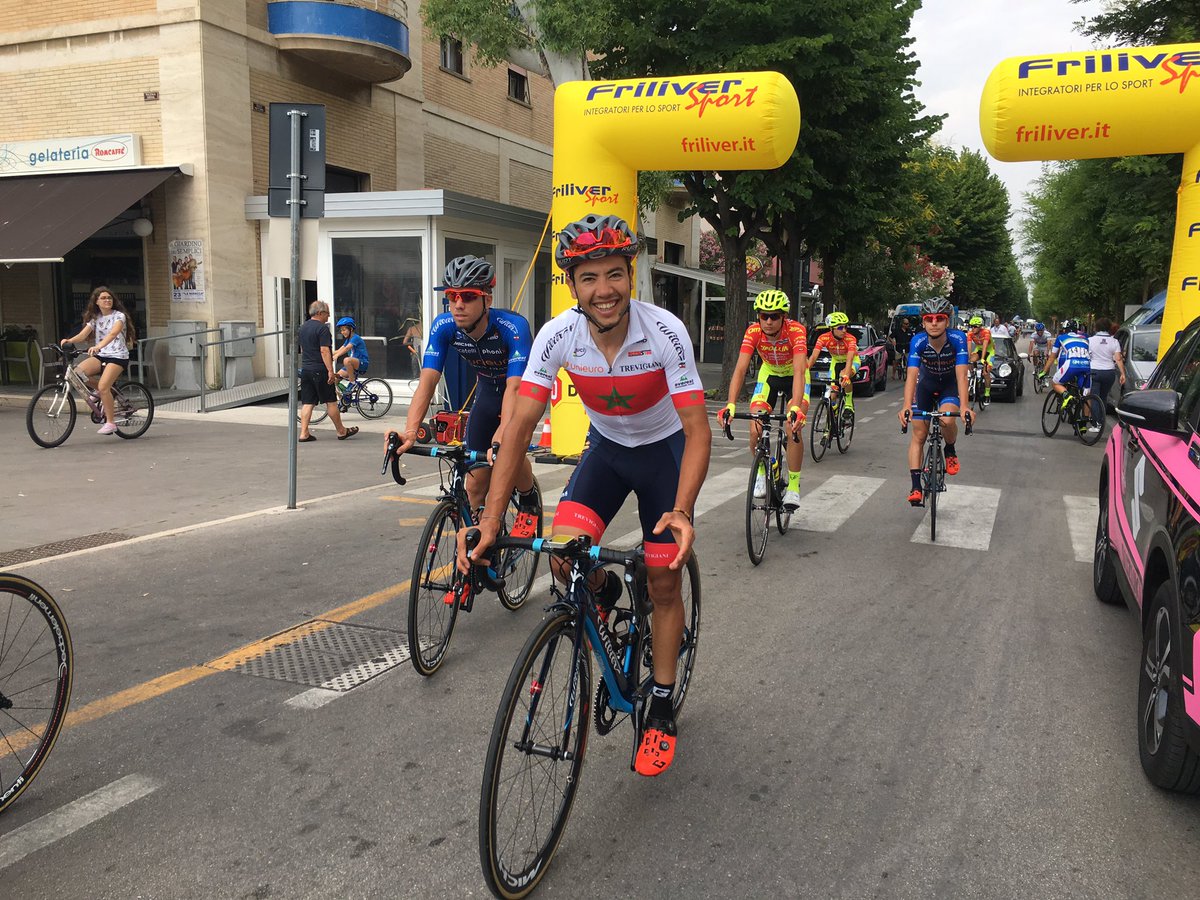 Zahiri (a graduate in 2016 from the UCI's World Cycling Centre in Aigle, Switzerland) firmly believes his future lies in the hills thanks to his natural ability as a climber, with Pro Cycling Stats stating he weighs just 59kg. however, Abderrahim also thinks he has some personal qualities that can help him succeed in cycling in both the present and future seasons.
"I have GC ambitions and this made me quite aware to never give up and get back on track to chase my dream. I am a climbing specialist and that helps me to keep myself in touch with good results in the mountains. For my strengths, flexibility is my biggest one because it helps me to handle different tasks. Also, sincerity, punctuality, and honesty are my unique identities that give me the power to take any challenge."
Despite 2018 only being Zahiri's second season as a U23 rider, his birthday falls on New Year's Day, meaning he will age another year before any U23 races start. This means that 2018 will be his final season as an U23 before he ages out, ensuring he has just 12 months to show he deserves a professional contract. However, Zahiri doesn't lack confidence and he has set his goals for the coming season high, citing the three biggest races in the U23 calendar as his biggest objectives for the year ahead.
"My 2018 goals include getting good results at the U23 Giro d'Italia, Tour de l'Avenir, and World Championships."
Zahiri Abderrahim is taking the road less travelled in his aim to become a pro rider, but after a brilliant season this year, he is primed for more success in 2018. He is certainly one to watch in the coming season.
U23 Cycling Zone would like to thank Zahiri for taking part in this interview and giving up some of his valuable time during his offseason, and we wish him the best of luck in his last season at the U23 level. Furthermore, I would like to thank Unieuro Trevigiani-Hemus 1896 press officer Giulia De Maio for helping set this up. You can follow the team at @TeamUnieuro on Twitter.