The U23 men's road race is just like the elite race in that the race is all about the battle for the Rainbow Jersey. However, the U23 race additionally interesting as it offers most U23 riders one last chance to show themselves in the hope of securing a professional contract. As the men's U23 event is the just the second of the five road races, a lot of attention will be on the race to see how it plays out and can offer the pros a chance to see where they can make an attack stick in order to secure their own Rainbow Jersey on Sunday or Saturday.
This year's course in Bergen offers the chance for attackers and sprinters who can survive the climb. Norway originally designed this course with Alexander Kristoff and Edvald Boasson Hagen in mind, but in defending champion Kristoffer Halvorsen they have a rider who can actually win an unprecedented Rainbow Jersey. The country has a great record in the U23 road race, with Halvorsen and Sven Erik Bystrom winning the race in 2016 and 2014 respectively. Kristoffer Skjerping was third when Bystrom won and Sondre Holst Enger was third in Florence in 2013. However, it is far from a foregone conclusion that the title is Norway's. As you will read later on, there are a host of riders keen to win the race.
As always, the traditional powerhouses of France, Belgium and the Netherlands will have something to say, as will Colombia, but some of the other traditional and emerging nations who have been strong in recent years really don't have a fast man suited to this course. Britain will race without Chris Lawless and could struggle, while Australia have a great list of climbers but no sprinters, while its mostly rouleurs and puncheurs for Italy, Denmark Spain and the USA. Will this lead to a quieter race or will we see attacks flying every lap as those without real favourites try and spice things up?
There are also some pro riders here: Lennard Kamna of Germany and Sunweb, CCC trio Alan Banaszek and Michal Paluta (Poland) and Michal Schlegel (Czech Republic), Italy and Bardiani's Vincenzo Albanese, Belgium have SportVlaanderen's Piet Allegaert while France bring three pros in Fortuneo-Oscaro's Franck Bonnamour, Roubaix Lille Metropole's Jeremy Lecroq and future FDJ and current Armee de Terre man Benjamin Thomas.
THE COURSE
For now, we will focus on the course. The men do ten laps of the 19.1km circuit, giving the race a total distance of 191km. The weather is due to be wet, which will make for a stressful and nervous peloton, but lots of action and excitement for the fans. It will not be that windy, with less than 10km/h breezes, and it will be a tailwind from Salmon Hill but a headwind for the final 2 kilometres or so.
The circuit itself begins with a tunnel and is flat but at 2km there is a 500m climb up to Solheimsviken. The riders then get some more false flat before they do a descent and at 5km into the circuit they do another kilometre uphill, at 5%. The road continues at flat to slightly rising gradients for a kilometre or so before they reach Salmon Hill. The climb is 1.5km at 6.4%, although the first 500m averages almost 8% while the last 1000m is under 6% average.
The descent is relatively technical with a hairpin and a few tight bends before straightening out at 10km raced. The road is slightly descending with a few kick ups all the way until the 15km mark. The last 9km or so take place on roads used in the ITT or TTT, so they should be somewhat familiar to riders.
The finale is a little bit technical, with nine turns in the last 4km. The turns looked relatively open in the TT, but if there is a larger group coming into them they may be more technical and a fight for position could be key. The road is flat and wide at this point and the chicane at around 500m from the line is likely to be key for any riders sprinting. After the last part of the chicane, there is only 250m or so left to go to the line, so a sprint can be launched from there. If it is wet and there is a relatively large group going for the line, crashes may occur.
Overall, this course is a bit too flat in the back end to suit solo escapees over Salmon Hill, although if a small group could get clear, there is a chance it could stay away. A later attack may stick if teammates are in short supply, but some form of sprint seems the likely outcome here.
While it is understandable why Mount Floyen, used in the Elite Men's ITT, can't be used here (it is way too narrow to race up), the Birkelundsbakken climb from the U23 and Junior ITTs is much harder than Salmon Hill and would have made the race a little more exciting. The only hazard with that climb must have been that it would have made the circuit too long. While U23 racing is very unpredictable, it looks like we may see a second consecutive sprint for the Rainbow Jersey at the U23 Worlds. Will we see a second consecutive, and immensely popular home win, for Halvorsen?
THE FAVOURITES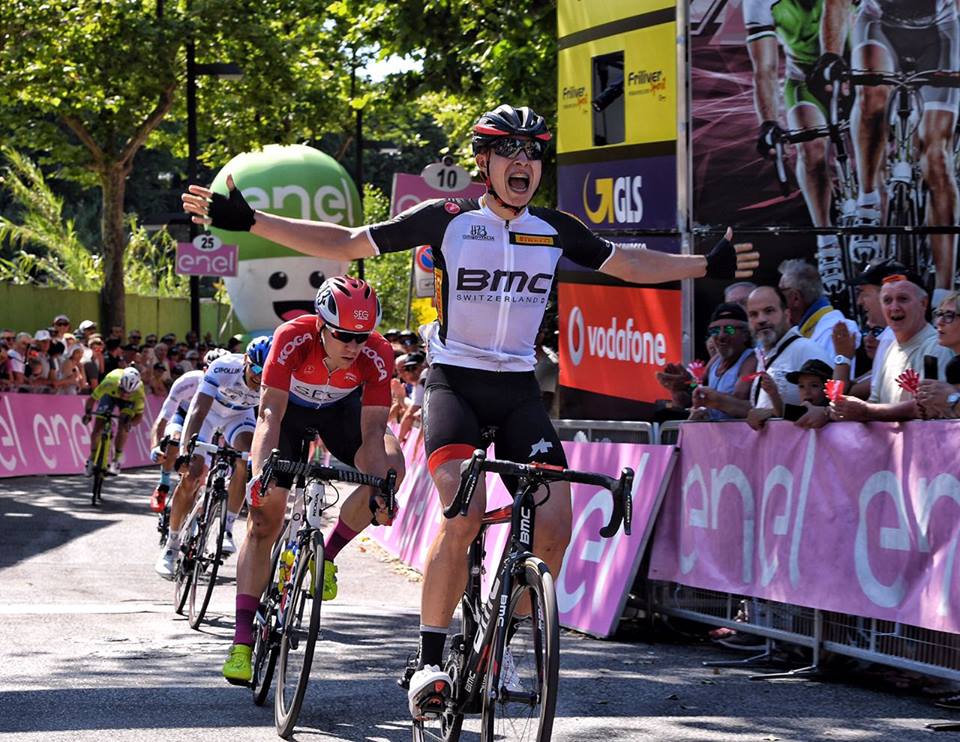 Winner Candidates: Kristoffer Halvorsen (Norway), Fabio Jakobsen (Netherlands), Jasper Philipsen (Belgium)
Podium Contenders: Alvaro Hodeg (Colombia), Alan Banaszek (Poland), Jeremy Lecroq (France)
Outsiders: Edoardo Affini (Italy), Alexandr Riabushenko (Belarus), Benjamin Thomas (France), Kasper Asgreen (Denmark)
As defending champion and racing in front of a home crowd, Halvorsen does go in as the big favourite. He showed at the Tour de l'Avenir that he is the most consistent sprinter in the U23 field and comfortably took home the points jersey. Andres Skaarseth and Tobias Foss provide great team support and, while Salmon Hill isn't the hardest climb, ten times up it shuld wear the legs down, tilting the race in Halvorsen's, a good climber, favour.
QuickStep have signed Fabio Jakobsen and the Dutch RR champion at his age group has shown why this year. He has lots of wins and and was phenomenal in the uphill dash at l'Avenir. However, he was out of the frame in most of the other sprints in that race, which is a little concerning. However, he is in red hot form and won two stages at the Olympia's Tour recently, besting Philipsen on one occasion. In Bram Welten, he has a great leadout man and his country have a set Plan B. Joris Nieuwenhuis and Pascal Eenkhoorn also provide strong team support. Jakobsen is a real contender here.
Jasper Philipsen is only 19 but he has two big advantages: he is seriously fast and is part of the strongest team here. He has five wins at U23 level this year and has beaten Jakobsen twice, at the U23 Giro and a stage at the recent Olympia's Tour. His team includes four riders from Lotto-Soudal's U23 team (Planckaert, Leysen, Lambrecht and Dewulf) and SportVlaanderen pro Piet Allegaert. This team can not only go on the offensive and let Philipsen follow wheels, but can also drive tirelessly on the front for a sprint. Despite his youth, Philipsen is not to be underestimated here.
Alvaro Hodeg is currently a trainee with QuickStep and is another rider who impressed in l'Avenir with a stage win and some good, consistent placings. The Colombian has been quite quiet this year and not too much is known about him, but he must be talented if QuickStep were willing to take a chance on him. His weakness is that he needs a sprint and his team is not really suited to this course. That means his chances of winning the race really lie in the hands of other teams, which is not a good position to be in. However, should that sprint arrive, Hodeg is going to be competing for a medal.
Alan Banaszek is an inconsistent rider but has shown his speed in glimpses this year, crcking the top ten in a sprint in Pologne, top five in Britain and being up there on a few stages in L'Avenir, with second in a Coppi e Bartali stage his season's highlight. Like Hodeg, he needs a sprint and his team is not great for this course, but the CCC Sprandi-Polkowice pro sits further down this list as you simply don't know if he is going to be right up there or is going to be merely pack fodder. If he is up there, he has the speed to win the Rainbow Jersey.
Jeremy Lecroq is riding his final U23 Worlds after a season that has seen him compete well in both some big U23 races (3rd in U23 Flanders and ZLM Toer) and go well on the French pro scene (multiple high placings), and that has seen him move up to Pro Conti level for 2018 with new team Vital Concept. He has the speed and a strong team, with three other pro riders in his squad, as well as future pro Valentin Madouas. The reason he is so far down this list is because he has looked a little tired in recent races after a long season that has seen him race mostly professional events. If he has recovered, he will contest the win but if he's still fatigued, a hard race may see him abandon.
Edoardo Affini is the first rider on this list who hasn't found either a pro team for next year or has spent time as a stagiaire. The Italian has something to prove and Italy cearly want to attack after leaving sprinter Imerio Cima at home. Giovanni Carboni and Bardiani pro Albanese, Trek-Segafredo stagiaires Nicola Conci and Matteo Moschetti are all primed to attack but if the solo move is going to come, TT specialist Affini is Italy's best bet. Eighth in the event on Monday and fourth in the European TT, he has a big engine and racing in the lowlands has shown he can go well after hard stages. If he goes clear in the final, he will be very hard to bring back.
Another strong contender if the race gets hard is future UAE rider Alexandr Riabushenko. The former European RR champion was brilliant in the hilly Italian one-day events earlier this year and sprinted well in l'Avenir despite no stages really suiting him. The Belorussian is in form but he really needs an uphill finish to win, like he did on day two at the U23 Giro. His team is also very weak. He can finish top ten normally, but if the race is fast and the rain plays a role, expect Riabushenko to be primed to strike.
Another great option for the late attack is Benjamin Thomas. With Lecroq possibly below his best, the future FDJ man and track World Champ is going to be near impossible to catch if he attacks late. He has already shown his class, winning two pro races this year and placing high on the GC in some hilly stage races. Ideally, Salmon Hill would be closer to the line but if anyone can make an attack stick, it is Thomas. He is already a rider with pro quality and should be stronger than a lot of riders in the field, he just needs to stay alert and try and take advantage of this.
After being hyped as the favourite for the ITT, European TT champ and former Yellow Jersey after winning stage one in l'Avenir, Kasper Asgreen may feel he is under pressure here for a result. The Dane is in his last year as an U23 and has still not signed anywhere, so he needs something special to get him over the line. He showed on day one in l'Avenir that he can make a late attack stick and teammate Casper Pedersen has done the same, in both the U23 European RR and on the opening day in Tour of Denmark against pro riders. Both are in form and are joined by 18 year old sensation Mikkel Bjerg, fresh from being crowned U23 ITT champion on Monday. All three are rather hapless sprinters, so expect late moves from all three, with Asgreen the best big to steal a win for Denmark in neighbouring Norway.